2.9K
Windows 10 Ent LTSC 2019 Ver 1809 B 17763.2183 x64 ESD en-US Sep 2021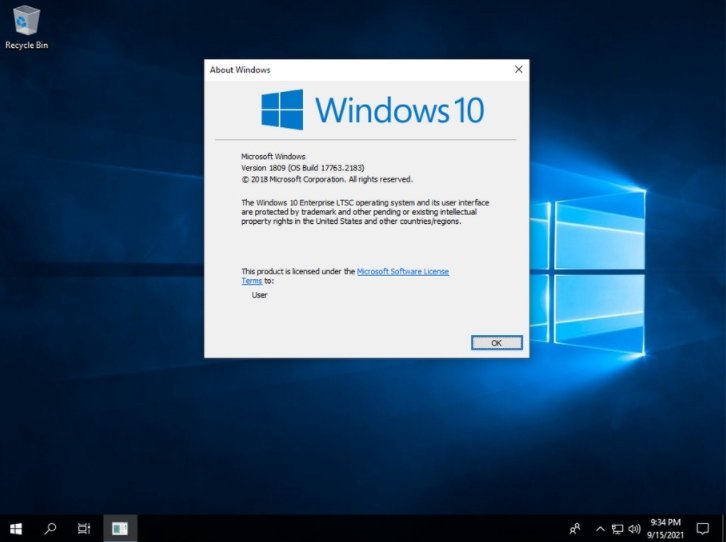 Windows 10 Enterprise LTSC 2019 Version 1809 Build 17763.2183 x64 ESD en-US September 2021
Windows x64 | English US | File Size: 3.65 GB
Windows LTSC version is a special Windows edition with the long-term support. In the Windows LTSC versions (earlier they were called LTSB - Long-Term Servicing Branch) Microsoft focuses on the system stability.
General Info:
File: LTSCX64.ENU.SEP2021.iso
Size: 3,65GB
Format: Bootable ISO
CRC32: e455a7b9
MD5 : aebd3ad0f844094f2dabd949c1f7917a
SHA-1: 5c6ba687ee8df663443fe670bfdfa52d69059b0c
Language: ENGLISH [US]
Editions Included:
Windows 10 Enterprise LTSC 2019 - STD
Windows 10 Enterprise LTSC 2019 - DLA
Windows 10 Enterprise LTSC 2019 - OEM
STD = Standard installation - For those with own License Key
DLA = Digital License Activation (HWID)
OEM - Will automatically activate if installing same version on original equipment
What's New:
September 14, 2021-KB5005568 (OS Build 17763.2183)
Code:
You must reply in thread to view hidden text.