Sleuth
BANNED
Member
Access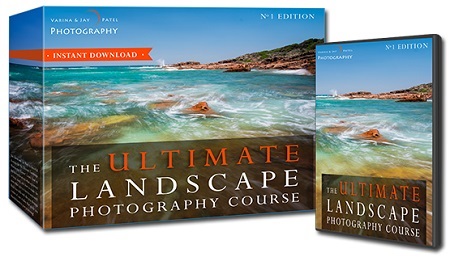 The Ultimate Landscape Photography Course by Varina & Jay Patel | 7.9GB
​
ARE YOU TIRED OF TAKING BORING, LIFELESS LANDSCAPE SHOTS?
Are you struggling to make your landscapes look as beautiful in print as they do in real life?
Do your shots seem dull and lifeless when they should be vibrant and full of depth?
Then come along with world renowned professional landscape photographers, Jay and Varina Patel.
TAnd they teach you everything you need to know to capture amazing landscape photographs.
HERE'S THE SECRET
Landscape photography is about more than just a good location.
There are many different factors that go into shooting amazing landscape photographs which many people never even consider.
Finding a good spot is only the first step.
It's also about which equipment you use, how you play with the light, the composition of your shot, and a dash of your own creativity.
You could figure this all out on your own through trial and error.
Or you could save time and let world renowned photographers, Jay and Varina Patel, teach you everything they've learned about landscape photography throughout their award winning careers.
WHAT YOU'LL LEARN IN THIS COURSE:
blue-tick WHAT EQUIPMENT you need to capture the best landscape images.
blue-tick THE BEST LOCATIONS to photograph and how to find them.
blue-tick SECRET TECHNIQUES that break the traditional rules of photography but produce amazing results.
blue-tick 36 VIDEO LESSONS (4 HOURS OF PROFESSIONAL CONTENT): See exactly how Varina and Jay choose their locations, and set themselves up to take the award winning shots that have gotten them published all around the world.
blue-tick 9 CASE STUDIES Learn how to capture beautiful macro, seascape, dunes, forest, sunrise, sunset, night, waves and panorama images.
blue-tick GET THE ORIGINAL RAW IMAGES & PHOTOSHOP FILES Download them and edit along with Jay and Varina to learn all their tricks and techniques right as they're doing them.
blue-tickFOCUS-STACKING TECHNIQUE Learn to capture awesome Macro images.
blue-tickHYPERFOCAL DISTANCE How it affects your landscape photography.
blue-tickTIPS & TRICKS Take stunning images even in harsh midday light.
blue-tick WHY RAIN IS NOT BAD Learn where to go when it rains to get totally unique images.
LIGHTING TECHNIQUES Take amazing shots even in sub-optimal light which will surprise even yourself.
blue-tickONE SIMPLE TIP That will save you thousands of $$$. (Maybe you can even put that towards a new macro lens.)
blue-tick LEARN AT YOUR OWN PACE These videos are yours to keep forever. Watch them one by one, or all at a time. Go out a practice them as you go, and come back to rewatch them as often as you like. Do what works best for you.
blue-tick SIMPLE & EASY-TO-UNDERSTAND VIDEOS so that you never become overwhelmed again!
Homepage
Screenshots​
Link Download
​
Download Via UploadGig
You must reply in thread to view hidden text.
Download Via Rapidgator
You must reply in thread to view hidden text.
Extract files with WinRar 5 or Latest !