2.9K
GoodNotes 5.7.26 MAS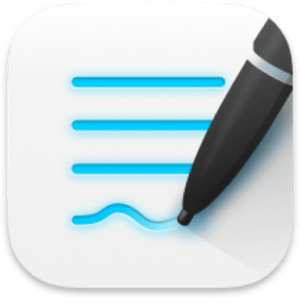 File size: 232.59 MB
Transform your Mac into smart digital paper and a powerful document management system.
Use the same features from GoodNotes' iPad version on your Mac and work with your documents where you want and when you want.
CREATE, IMPORT, AND EDIT DOCUMENTS ON YOUR MAC
Create digital notebooks and type text with your keyboard or write and draw with the mouse/trackpad or the Apple Pencil using Sidecar on your iPad
Import PDF and images to annotate them in GoodNotes
Add documents from your Mac to existing GoodNotes notebooks via drag and drop
PAPERLESS DOCUMENT MANAGEMENT
Organize your documents in folders and create unlimited subfolders
Mark your most important documents, pages, and folders as Favorites to access them quickly
Create custom outlines for easier navigation through your documents
Instant export of documents or pages as PDF via drag and drop
ALL YOUR NOTES ALWAYS WITH YOU
Sync your latest changes to your iPad, iPhone, and other Macs using iCloud
Prepare documents on your Mac and pick them up on another device to continuously work on them
ESCAPE THE LIMITS OF ANALOG PAPER
Move, resize, and rotate your handwriting or change colors
Draw perfect shapes and lines with the Shapes Tool
powerful & smart eraser tool: Choose to erase the entire stroke or only parts of it. Set it to "Erase Highlighter Only" to leave the ink intact
Navigate through imported PDFs with existing hyperlinks
RELEASE NOTES
• This release includes several performance and stability improvements.
Supported Operation System:
• macOS 10.15 or later
• Apple Silicon or Intel Core processor
You must reply in thread to view hidden text.