200
Windows Server 2019 Build 17763.2183 AIO x64 September 2021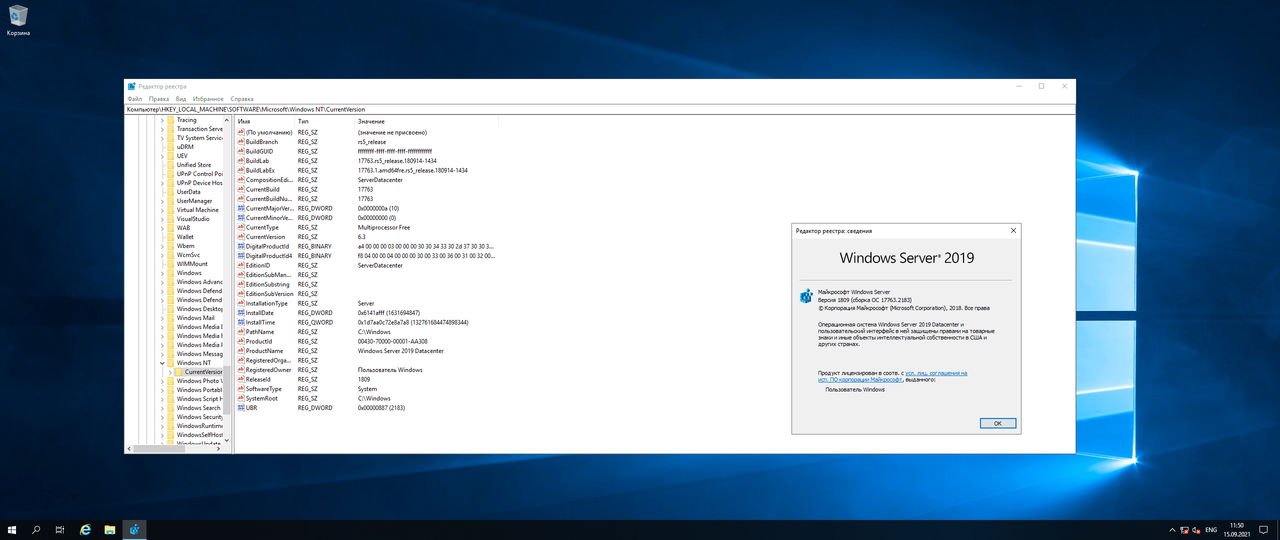 Windows x64 | English/Russian | File Size: 4.37 GB​
Windows Server 2019 is the ninth version of the Windows Server operating system by Microsoft, as part of the Windows NT family of operating systems. It is the second version of the server operating system based on the Windows 10 platform, after Windows Server 2016.
General Info:
Program Version: 10.0.17763.2183
Build Author: adguard
Interface Language: English, Russian
Treatment: Not Activated
Architecture: x64
File Size: 4.37 GB
Features:
Updates are integrated until September 14, 2021;
Integrated .Net Framework 4.8;
Included .Net Framework 3.5 (including 2.0 and 3.0);
Integrated SmartFix 2.3.17, Microsoft DaRT in winre.wim and boot.wim;
The systems were not in audit mode.
Editions Included:
Hyper-V Server 2019
Windows Server 2019 Essentials
Windows Server 2019 Standard (Server Core Installation)
Windows Server 2019 Standard (Server with a GUI)
Windows Server 2019 Datacenter (Server Core Installation)
Windows Server 2019 Datacenter (Server with a GUI)
What's New:
September 14, 2021-KB5005568 (OS Build 17763.2183)
MD5: 18085cd95b17895e3f808ab5a46e6155
SHA-1: d2d84d97d575accbd52f000a0f833951a59a9a3c
SHA-256: 8da8a06137a04280306ec35f7dae015f0d2d3f8553b7040bc23b05295a46190d