Alpha and Omega
Member
Access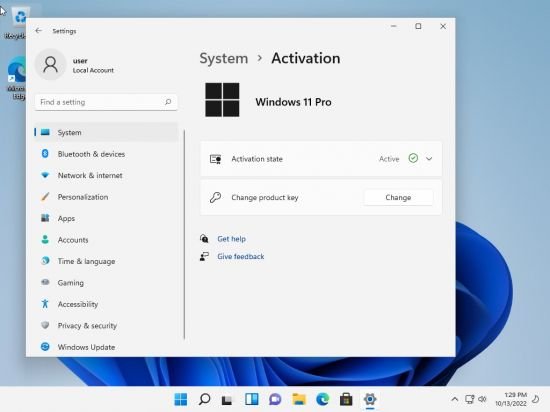 Windows 10/11 21H2-22H2 MSDN 68in1 AIO (Pre-Activated, No TPM) October 2022
Windows x64 | English US | File Size: 11.3 GB
​
The assembly is based on the original MSDN images. Updates up to October 11, 2022 have been integrated, and SmartFix 2.4.7 and Microsoft DaRT have also been integrated. All original Assemblies untouched.
Windows: 10/11
Version: 21H2-22H2
Format: ISO (MSDN) 68in1 AIO
Build Author: Kirk
Language: English
Treatment: PreActivated by HWID
MD5: 82C1EEE875472C861CCE796999FCA25E
SHA-1: 10AA89BA11D877C556E63E8B9427A86134344308
TPM: Not Required
File Size: 11.3 GB
System Requirements
Processor: 1 gigahertz (GHz) or faster processor or SoC.
RAM: 2 GB for 64-bit systems.
Hard disk space: 16 GB for 64-bit systems.
Video adapter: DirectX 9 or later with WDDM 1.0 driver.
Display: 800x600.
Build Numbers
Windows 11, Version 21H2 22000.1098
Windows 11, Version 22H2 22621.674
Windows 10, Version 21H2 19044.2130
Windows 10, Version 22H219045.2130
List of Assemblies
21H2
Windows 10 Home x64
Windows 10 Home N x64
Windows 10 Pro x64
Windows 10 Pro N x64
Windows 10 Home Single Language x64
Windows 10 Pro Education x64
Windows 10 Pro N Education x64
Windows 10 Pro for Workstations x64
Windows 10 Pro N for Workstations x64
Windows 10 Pro Single Language x64
Windows 10 Education x64
Windows 10 Education N x64
Windows 10 Enterprise for Virtual Desktops x64
Windows 10 Enterprise x64
Windows 10 Enterprise N x64
Windows 10 IoT Enterprise x64
22H2
Windows 10 Home x64
Windows 10 Home N x64
Windows 10 Pro x64
Windows 10 Pro N x64
Windows 10 Home Single Language x64
Windows 10 Pro Education x64
Windows 10 Pro N Education x64
Windows 10 Pro for Workstations x64
Windows 10 Pro N for Workstations x64
Windows 10 Pro Single Language x64
Windows 10 Education x64
Windows 10 Education N x64
Windows 10 Enterprise for Virtual Desktops x64
Windows 10 Enterprise x64
Windows 10 Enterprise N x64
Windows 10 IoT Enterprise x64
21H2
Windows 11 Home
Windows 11 Home N
Windows 11 Pro
Windows 11 Pro N
Windows 11 Home Single Language
Windows 11 SE
Windows 11 SE N
Windows 11 Pro Education
Windows 11 Pro N Education
Windows 11 Pro for Workstations
Windows 11 Pro N for Workstations
Windows 11 Pro Single Windows
Windows 11 Education
Windows 11 Education N
Windows 11 Enterprise
Windows 11 Enterprise N
Windows 11 Enterprise multi-session
Windows 11 IoT Enterprise
22H2
Windows 11 Home
Windows 11 Home N
Windows 11 Pro
Windows 11 Pro N
Windows 11 Home Single Language
Windows 11 SE
Windows 11 SE N
Windows 11 Pro Education
Windows 11 Pro N Education
Windows 11 Pro for Workstations
Windows 11 Pro N for Workstations
Windows 11 Pro Single Windows
Windows 11 Education
Windows 11 Education N
Windows 11 Enterprise
Windows 11 Enterprise N
Windows 11 Enterprise multi-session
Windows 11 IoT Enterprise
HOMEPAGE
DOWNLOAD RAPIDGATOR
DOWNLOAD UPLOADGIG