200
Video Thumbnails Maker Platinum ver15.3.0.0 RePack & Portable by TryRooM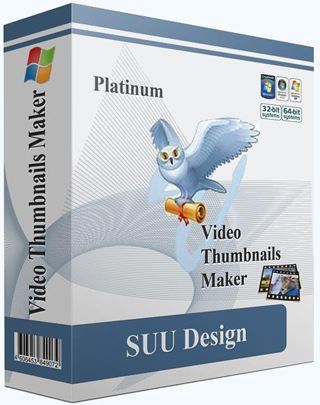 20.95 MB​
System requirements :
Windows XP, Vista, 7, 8, 10
The program requires Microsoft .NET 4.0+
Description :
Video Thumbnails Maker is a program for taking screenshots (previews, caps, thumbnails) and screenshots from video files. The program provides a wide range of settings. Supports batch capture of previews, storyboarding, watermarks, cropping corners of frames, frames, shadows, alpha channels, time stamping in frames, adding video information, customizable transparency, colors and fonts. The utility allows you to work with video files of any format for which the system has suitable codecs.
Features of the program:
• Support for batch processing of video files.
• Support for almost any video format (MOV, QT, FLV, SWF, RM). The main thing is that you have a suitable codec in your system (one that allows you to play these video files in BSPlayer, Windows Media Player, ...).
• Several ways to select frames manually.
• Ability to pause / continue or end the current task at any time.
• Visual preview of the results of the settings right in the options window! Instant real-time rendering. Thumbnail creation has never been so easy! Maximum creative freedom.
• Ability to save frames separately.
• Support for the command line interface.
• Own picture viewer, which allows you to run a video corresponding to the current picture. The process of matching picture and video is automated.
• Import / export of presets (program options).
• Proprietary preset file format (* .vtm). When you start the preset, the program and the options window with the imported settings are automatically opened. Very comfortably.
• 5 standard presets.
• Ability to save technical information about Video and Audio in CSV and XML formats.
• Statistics of the program (help window, F1).
• Watermarks (with support for transparency and alpha channels). Create your own style.
• You can use your own pictures as the background of the preview.
• Option to auto-fit the height of the frame to the width.
• Option to auto-fit the size of the preview to the resolution of your screen.
• Special effects (shadows, cropping corners of frames, black and white frames).
• Customizable fonts, border colors, outlines, text, shadows, background.
• Option to stamp the time in the frame (in the corners or in the center, with or without an outline, transparency).
• Arbitrary configuration and location of the video information on the picture.
• Option to add audio and video information about the file.
• Option to add your own line to the picture.
• Three rendering engines (Engine 2 is recommended for use under 64-bit OS).
• Replacing black frames, combining several pictures into one.
• Small size of the program.
• Hotkeys.
Version changes:
Changelog
Type : installation, unpacking (Portable by TryRooM).
Languages : multi, Russian
Treatment : performed, Patch igorca.
Command line switches :
Silent unpacking : / VERYSILENT / P
Silent installation : / VERYSILENT / I
Do not create a shortcut on the desktop: / NRZ
Do not create a shortcut in the Start menu: / NPZ
Select installation location : / D = PATH
Key / D = PATH should be the most recent
For example: installation_file.exe / VERYSILENT / I / D = C: MyProgram