110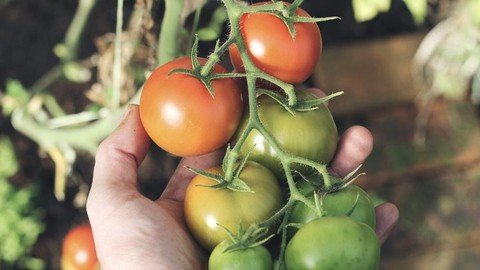 MP4 | Video: h264, 1280x720 | Audio: AAC, 44.1 KHz
Language: English | Size: 850 MB | Duration: 56m
Small space vegetable gardening
What you'll learn
How to plan your garden space
How to transplant tomato seedlings
How to plant potatoes in a container
How to create a micro climate to extend your growing season
Ways to preserve your garden bounty
Soil amendments
Requirements
An interest in growing some of your own food
Be able to get some supplies that you'll need to start
Description
Do you live in a place that has a short growing season?
Would you like to grow some of your own food but need a bit of inspiration and maybe some new ideas on how to do things?
Welcome to urban gardening in a cold climate.
We live in a city of over a million people and have a small yard.
We also live in a cold climate (in Canada) and have learned some ways to succeed at growing food that we enjoy throughout the summer and also during the winter. We bring you our best tips, and some tales of things we learned the hard way. If we can do it, you can, too.
Quick outline for this overview gardening class:
Planning your gardening space starting seeds indoors: growing zones, garden themes and more
Creating a micro-climate and transitioning seedling to the outdoors
How we built our greenhouse
Building and amending your soil
Watering and irrigation systems
Succession planting and companion planting
Transplanting tomatoes
Planting potatoes in containers
Planting Strawberries
Preserving your summer bounty
And more!
This class is geared for all levels, especially beginners
Our gardening journey
Both Clint and I have a gardening heritage.
Clint grew up an an acreage in British Columbia, where his parents grew food and produce to sell at local farmers markets. In the class you will see some footage of some of the land there. Now the acreage is "just a hobby garden", even though it is HUGE compared to city gardens.
My (Deanna's) father was born and raised on a farm. Yes, he was born on the actual farm. His parents grew potatoes to sell commercially to logging camps in northern Alberta. The farm has stayed in the family, now run by one of my cousins.
Both of our parents still enjoy their gardens, even into their golden years. I want to be like that when I grow up! (Even though I'm already middle aged...) They have passed a lot of their experience and gardening wisdom to both of us over the years. One thing I realized is that there is always something new to learn, and to try.
Clint and I bring you more than 30 years of our personal gardening experiences in this overview class on urban gardening in a cold climate. Join us today!
You can visit our garden and many other attractions on Wisteria (Animal Crossing New Horizons) at the following dream address:
DA 2971-4460-5733
Urban gardening cold climate gardening
Who this course is for:
Those who have limited gardening space and want to grow some food
People who live in a cold climate and want to garden
Homepage
Recommend Download Link Hight Speed
|
Please Say Thanks Keep Topic Live
Links are Interchangeable - No Password - Single Extraction