Alpha and Omega
Member
Access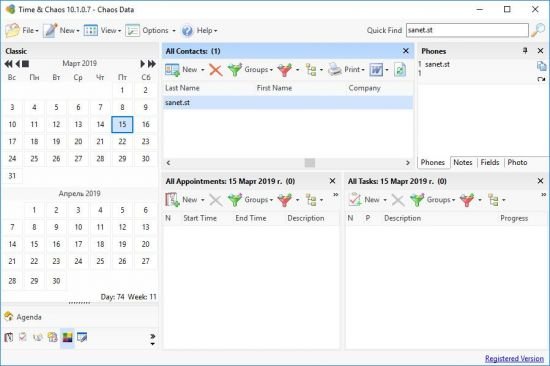 Time And Chaos 10.4

File size: 10.6 MB
​
Keeping your business organized is important if you want to give a good impression to all the clients and partners. Time & Chaos is a Customer relationship management (CRM) program that should help you keep everything in line.
The app has a clean interface that is easy to figure out, thanks to the intuitive layout.
Basically, the program enables you to create to-do lists, set appointments and contact files for each client.
For instance, the contact files include the full name, the company, job title and group they are part of, two addresses and various telephone numbers. Furthermore, you can add the email address, the Facebook, Twitter, LinkedIn and Google+ URLs, as well as their home page, if they have one. Each can contain various private notes and other information deemed necessary.
Lists of tasks that need to be completed, projects and appointments can be created by filling in a simple form. The app enables you to view everything that needs to be accomplished by the end of the day, as well as by the end of the week. A monthly view is also available, so you can better organize your time.
Time & Chaos can connect to the email software to help you send messages by simply clicking the contact's address.
For those that are concerned with looks, the program comes with several color schemes that can be chosen from the app's "Options" area. Several other settings may be made as well, regarding the calendar, the tasks, contacts and projects.
The bottom line is that Time & Chaos is a nice program that can help you manage time better. Also, inexperienced users should be able to figure out the software's ins and outs in no time, thanks to the intuitive layout.
HOMEPAGE​
DOWNLOAD ​