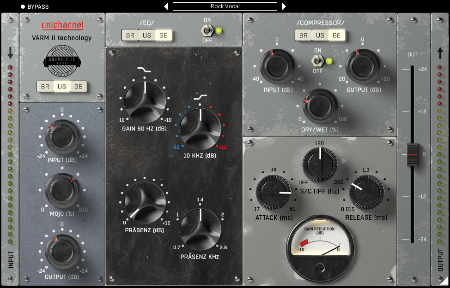 TeamCubeadooby | x64: VST3, VST2, AAX | x86: VST3, VST2, AAX | 58.3 MB
Having a vintage gear collection in the studio is nice and inspirational but unfortunately, it is also time-consuming and expensive. SounDevice Studio's owner, Boris Carloff, knows this very well, as he has been collecting vintage gear for more than 20 years:
"There is always something not working. From tubes to scratchy pots, from meters to noisy caps. And the units are so rare that you can hardly ever use them on multiple channels simultaneously." To avoid these limitations, we were inspired to create a solution that included the best of these devices into one plugin. The result is UniChannel.
Cube says
This release is extra cool for x86, since that has been without. In case you don't know it, all three files of each architcture are 1:1 copies of each other. VST = VST3 = AAX and it's all the same file, for each architecture this holds true. It is both factory and release true. Get this one quickly too. It might not be up for so long. You know what time it is and how it goes. Sincerely, enjoy and much respect to all that don't snivel and start unnecessary nonsense. "If you don't start none, there will be none." YOU are the all stars. The ones that do it have alterior motives, it should be recognized. P.S. No byte or function hiding this time.
Whats new in this version
Official site does not provide any info about changes in this version.
System Requirements
Windows 8 or newer (32 / 64 bit)
HomePage:
-:
DOWNLOAD FROM
LINKS
:-
Download From RapidGator
Download From NitroFlare