110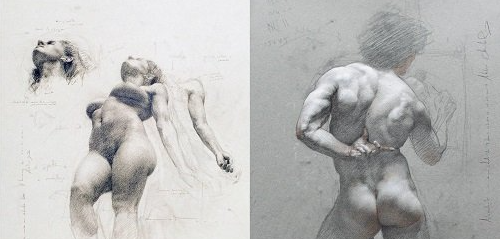 Skillshare - Learn How to Dynamic Figure Drawing
File Size :2.9GB | Genre: eLearning | Language: English | Drawing & Painting | MP4
Learn how to capture the shape and movement of the human body
Do you want to capture the beauty and movement of a model's body in your figure drawings? I have dedicated over ten years to exploring and experimenting with the art of figure drawing. In this course, I not only share my techniques for improving your drawing skills, but also teaches you a fundamental aspect of figure drawing: how to connect with your model.
Learn some practical exercises to perfect your accuracy and technique. See my step-by-step process for filling your drawings with movement and learn to unravel the beauty and personality of your model in your figure drawings.
See how to use and take care of your drawing material before learning about value ranges and experimenting with your pencils. See the difference between light value range and dark value range, and closely observe how light and shadows work together to give dimension to your drawings.
Next, do a powerful self-learning exercise that anyone can use to improve visual accuracy with my shape exercise. Then, learn how to accurately measure something in space.
It's time to start working with your model! Learn how to welcome your model and get my tips on working together in harmony. Learn how to find a dynamic pose, and see some anatomy basics to help capture the dynamism of a figure. Develop your visual memory skills with a series of practical exercises, a skill that I consider essential for adding movement to your drawings.
Then, get started on your 4-hour dynamic figure drawing. Once you are finished, get my advice on how to protect your drawing, as well as creating a certificate of authenticity for it.
This course is ideal for beginner-level figure drawing artists, as well as more advanced artists who would like to add new techniques to their repertoire.
To take this course, previous experience in live model figure drawing is helpful, but not essential.
As for materials
, you will need graphite pencils (2B, HB, 2H), sketch paper, Canson Mi-Teintes paper, a kneaded eraser, a pencil sharpener of some sort (lead pointer, handheld sharpener, exacto knife or sandpaper, etc), a drawing board, tape or clamps to hold your paper to the drawing board, tracing paper, a clock, something long and thin for measuring (ie thin knitting needle, thin paintbrush, bbq skewer, etc), and a ballpoint pen.
Content Source:
Recommend Download Link Hight Speed
|
Please Say Thanks Keep Topic Live