110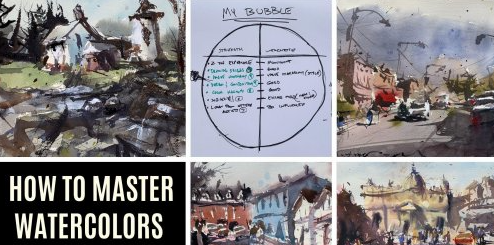 Skillshare - How To Master Watercolor - The Ultimate Learning Guide
Genre: eLearning | Language: English | Drawing & Painting | MP4
In this three week workshop we will slow things down a bit and focus on the art of learning. Having a clear picture for where your watercolor strength and weaknesses are will help guide you to getting amazing breakthroughs.
Welcome to How To Master Your Watercolor Painting Workshop
.
Three week workshop starts September 8th and ends on September 30th
New lessons released every weekday at 8am EST
Perfect class for understanding the art of learning
Discover tips that will help you evaluate your art and make smart decisions on how to invest your precious studio time
Staying organized and being INTENTIONAL is the key to having those amazing 'breakthrough' moments
Who should take this class?
This class is designed for experienced artists. I recommend you have at least one year of watercolor painting before taking on these lessons.
Improving consistently over and over is all about being
intentional
. It's how winners get what they desire. By understanding their goals and developing a plan on how to get the them.
Know this doesn't mean you have to completely abandon having fun. No, no!!! It's about finding
balance
. Dividing your studio/creative time up so that you are constantly exploring and developing your four major pillars.
I will share some fantastic tools I use to help get those magical breakthroughs and I can't wait to share them with you in this class.
Content Source:
Recommend Download Link Hight Speed
|
Please Say Thanks Keep Topic Live