200
Reason RE Rob Papen RPEQ v1.0.2 WiN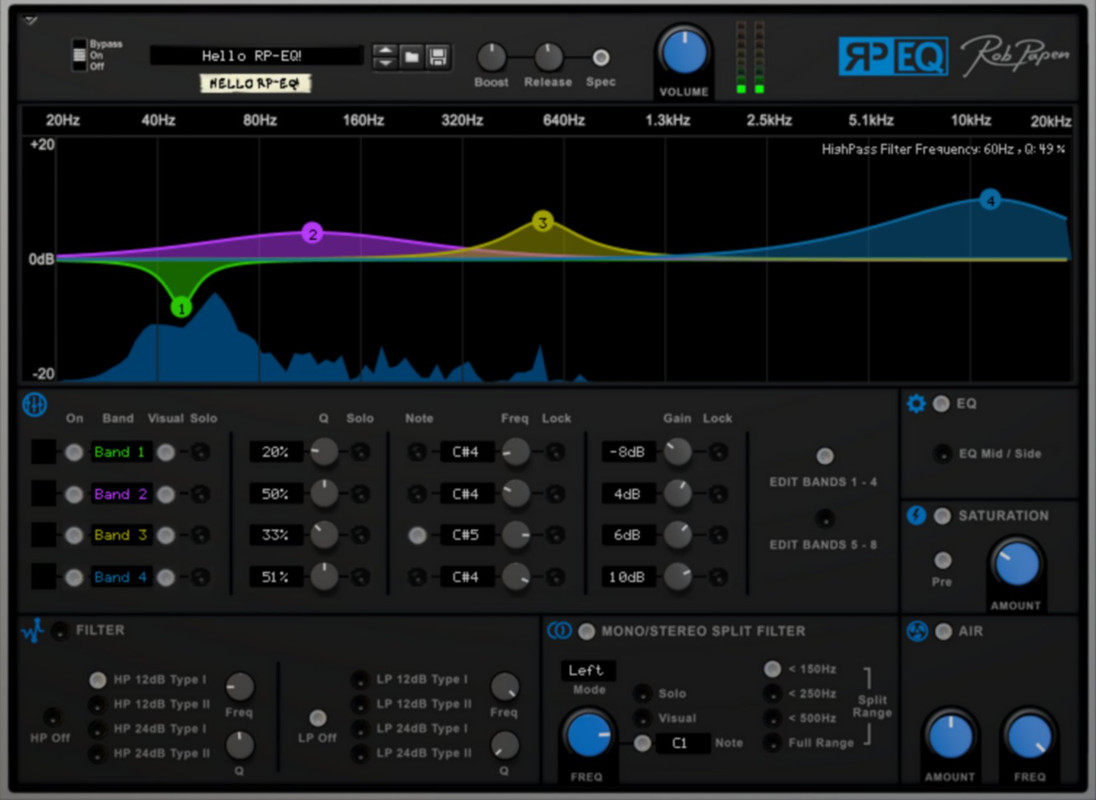 Team DECiBEL | 11 Sep 2021 | 4.4MB​
When you open RP-EQ in your Reason Rack you will see that it is far from a bread-and-butter equalizer and several unique elements were added to the core equalizer unit. Not to mention the smooth sound it provides which makes it stand out!
The toolbox now includes a MONO/STEREO Split filter, which is used a lot in modern EDM/Dance music to get a very tight low end. The Air section is also fantastic on your master channel to open your mix in a stunning way.
And in true Rob Papen style, RP-EQ comes with many great Presets including contributions from several well-known DJs and Producers for instant user inspiration.
Features:
Mastering and channel EQ with built-in Spectrogram for Propellerhead Reason 9.2 or higher
EQ - 8 Band EQ with Frequency, Gain and Bandwidth. - EQ dials and function controls. - EQ graphic screen. - Mid/Side mode with 4 Mid bands and 4 Sidebands. - Lock mode for Frequency and Gain. - MIDI Note selecting for each band instead of using Frequency. - Each band can be made visual or hidden in the graphic field. - Each band can be played solo.
Saturation - Mild tube saturation with a selector for pre-eq.
Air - Open your mix or track by using the Air feature. - Frequency range from 30kHz to 40kHz. - Gain of 6db max.
Filter - HiPass Filter in 12dB or 24dB mode. - LowPass Filter in 12dB or 24dB mode. - Two Filter colour/sound types - Resonance (Q) control.
Mono / Stereo Filter
- Great tool for inside the mix bus or while mastering. - Instead of frequency you also can select a MIDI note as the split point for the filter. - Clicking on the Mono / Stereo button will turn On / Off the Mono / Stereo effect. Controls are: - Frequency. - Solo on/off. - Visual inside the graphic display On/off. - Several Modes. These determine how the sound is 'mono-feed', either using the left or right channels, the average of the left & right channels (L+R), or the difference between the left & right channels (L - R).
Back Panel Screen -The back screen of RP-EQ shows the Input / Output audio connections and also CV input to each band's frequency, bandwidth & gain, also the Low-pass / High-pass filter frequency and Q(resonance).
You need R2R's Reason release and TEAM R2R Reason Rack Extension Cache Builder
Copy the RackExtension folder to
"%APPDATA%\Propellerhead Software\RackExtensions\"
Copy *.R2RRECACHE file to
"%APPDATA%\Propellerhead Software\R2RRECACHE\"
After you add new RackExtension(s), you need to rebuild the RE cache:
Just run "RECacheBuilder.exe" from TEAM R2R Reason Rack Extension Cache Builder
Cache file will be built.
Done!
Big thanks to R2R for sharing their knowledge and providing the resources!
Whats new in this version:
Official site does not provide any info about changes in this version.
System Requirements
Windows: Windows 7 or higher