200
PrivateWin10 0.85 Multilingual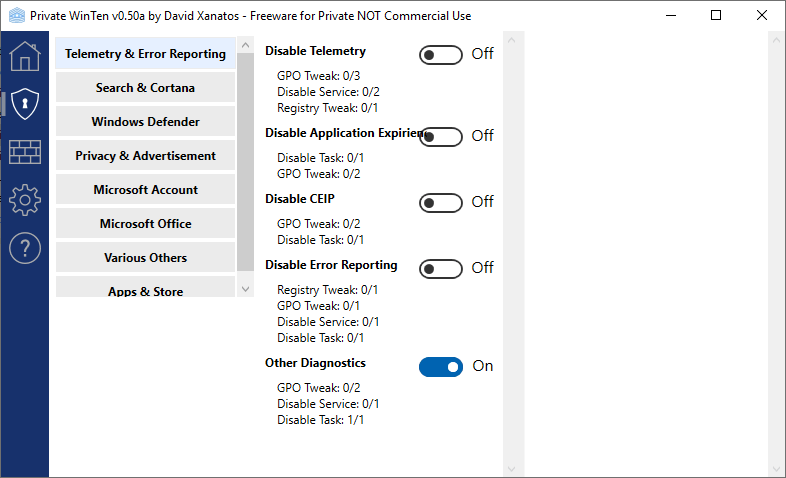 File Size: 2.4 MB​
PrivateWin10 is an advanced Privacy tool for windows it provides a simple and comprehensive UI for tweaking privacy settings, as well as options to block system access to files and registry keys in order to enforce privacy whenever Windows does not provide a satisfying setting for that.
Tweak privacy-related settings and features
While all of these modifications can be made without this utility, the process is far from intuitive, usually requiring you to edit the Registry. With Private WinTen, you can tweak everything from a simple GUI.
Among other things, you can disable telemetry, error reporting, Cortana, online searches, OneDrive, the Store, advertisements and location services. However, you will need to do a bit of research, as no explanations are provided, so it may not be entirely clear what each tweak does.
Manage the Windows Firewall from a new GUI
Private WinTen can also help you control which applications or services have access to the Internet by managing the built-in Windows firewall. Just make sure you don't set the filtering mode to White-List by accident, as Internet access will be blocked for all services that haven't been approved.
The firewall front-end is quite intuitive, and it does provide a more accessible alternative to the default Windows firewall configurator. However, if you only want this application for tweaking privacy settings, you can just stop it from managing the firewall altogether.
Useful tool for securing your privacy on Windows 10
Private WinTen does a great job of revealing tweaks that aren't normally available to most users. It allows you to prevent various types of data from being shared with Microsoft and third parties, as well as disable Windows features that are unnecessary and may compromise your privacy. It also includes a firewall GUI that many users could find helpful.
What's New