200
Portable PTE AV Studio Pro 10.5.4 Multilanguage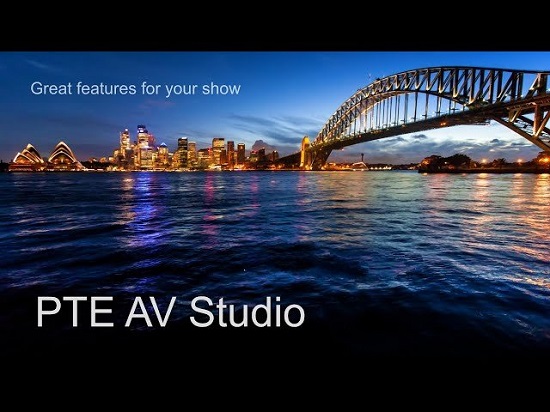 PTE AV Studio Portable can help you to create splendid slideshows, consisting of almost limitless number of images in executable file for PC and Mac. The interface of PicturesToExe Deluxe is very easy in use, both amateur PC and Mac users and professional photographers and people of all specialities can work in this program without any difficulties.
PTE AV Studio Portable supports different formats such as PNG, GIF, BMP and JPEG, which is the main for this program. A slideshow in executable format can be reproduced on any computer. No additional program, not even PicturesToExe itself, is needed to run a finished slideshow, except a produced executable file. You can place any objects (images, text labels with drop shadows) on a slide and customize complex animation.
It's either possible to use various cinematographic transition effects including 3D effects between slides, to add background music, sound and text comments to a slide and even to customize dialog windows. You can also synchronize slideshows to music. The slideshow has a very high picture quality and the smoothest playback of Pan/Zoom/Rotate effects you have ever seen.
VideoBuilder in PicturesToExe Deluxe edition allows you to burn a DVD-video disc with your slideshows quickly and easily. You can adjust the menu and many other parameters of your DVD disc. You cannot but notice one more advantage, PicturesToExe gives you an opportunity to create an AVI-video file, HD Video for PC and Mac and Video for iPhone. You may also publish your slideshows on Youtube and Vimeo. If you think, it's necessary you can protect your slideshow with a password and assign an expiration date. Burned in PicturesToExe DVD-video disc can be played on any DVD player, PC or MAC.
PTE AV Studio Portablee Deluxe Main Features:
• PTE AV Studio Portable produces single EXE file which contains all pictures and music.
• PTE AV Studio Portable can burn DVD-Video disc with slide shows.
• Pan/Zoom/Rotate effects for images.
• Powerful editor of objects of a slide with possibility to adjust complex animation.
• You can add buttons or text labels with drop shadow and glow to a slide.
• Cinematographic transition effects between slides.
• Show of slides can be exactly synchronized to music on the timeline with waveform.
• Slide show has built-in player for high quality MP3 and OGG playback. Also it supports WMA, WAV and MIDI music playback.
• Ability to create screen saver.
• Navigation bar in slide show.
• Easy solution for creating of greeting cards.
• Ability to create AVI video file.
• Support of multi-select and visual drag-n-drop between file panel and Slide list.
• Support of sound comments to slides (MP3, OGG, WMA or WAV).
• Images can be in JPEG, PNG, GIF or BMP format.
• Ability to rotate pictures (lossless algorithm).
• Every slide can be individually customized with own time, effect, background, and etc.
• And a number of another features.
• Support for English, Russian, Netherlands, Italian, Swedish, Hungarian, Slovenian, German, Catalan, French, Spanish, Arabic, Romanian, Chinese, Brazilian Portuguese, Danish, Czech, Ukrainian, Slovak languages.
Pan, Zoom, Rotate, 3D
Adjust pan, zoom, rotate, 3D transformations.
Control opacity, blur, unsharp mask, and color effects.
Nested Animation
Create complex parent-child animation of objects.
Images and Video Clips
Mix images and video clips together on the screen.
Timeline View
Add and view multiple audio tracks which may be played simultaneously. Synchronize slides with audio clips on the timeline using time points. Link audio clips with slides.
Audio Editor
Envelope tool (keypoint control of sound volume). Edit audio clips: fade in/out, start time, duration, cross-fading.
Objects
Add images, video clips, text captions, masks, interactive buttons and more.
Keyframe Animations
Keyframes work like waypoints. Add first keyframe and adjust position and size of an object. Add last keyframe and adjust the final position of an object and its parameters. PTE AV Studio will animate the object between these keyframes using pan, zoom, rotate etc.
Color Adjustments
Adjust the brightness, contrast, levels, hue, saturation of an image/video. Apply a sepia effect and other color filters. Support of color profiles.
Image Adjustments
Crop images and videos, add beautiful white frame and drop shadow. Apply dynamic blur effect. Use zoom in a frame. Apply masking effect.
Color Management
Support of Adobe RGB monitors in preview and executable shows.
Executable Shows for PC
PTE AV Studio allows you to create slideshows as executable files for PC and Mac.
The highest picture quality is possible, because PTE AV Studio uses original images from the project. Smooth playback of animations synchronized with a monitor refresh rate. Automatic or manual slide advance. Interactive objects with actions. Instant creation of executable files.
Slide Styles and Transitions
125+ customizable slide styles, themes and transition effects. Each slide style allows you to easily adjust several parameters of animation. Create new slide styles, themes and transitions and share with other users.
Text Captions
Add text captions with animation. Create text macros from EXIF metadata and apply to all or selected images.
Dark Mode and GPU Acceleration
PTE AV Studio 10 offers the choice of Dark Mode or classical Light Mode for the graphical interface. The main window of PTE AV Studio 10 uses GPU acceleration to show the graphical interface. Slide list, Timeline view and File list work faster with smooth scrolling
64-bit Application
PTE AV Studio 10 is now a 64-bit application and can use more than 2 GB of system memory for large projects
Audio Waveforms in the Objects and Animation Editor
Easily synchronize keyframes of your objects with soundtrack (Pro version only)
New Audio Tools, FLAC and M4A Support
FLAC and M4A audio files are supported
Split Audio Clip command
Separate Audio from Video command. This command will extract a soundtrack from a main video clip of a selected slide and insert a linked audio in the timeline on a new track.
Duplicate Audio Clip command.
Motion Blur Effect
This option simulates a shutter effect in a camera and adds a cinematographic look for your show. Parts of objects with a fast motion will be blurred automatically. This feature is available when you create a video (Pro version only)
Improved Playback of Videos and Fast Video Encoding
GPU acceleration for smooth playback of video clips in H.264 and HEVC formats
GPU acceleration for video encoding on NVIDIA, AMD and Intel graphics. Works 3-4 times faster
Support of HEVC and VP9 video files
Support of rotated video files
Trim Beginning of Video command in the Timeline view
Slide Styles and Themes
PTE AV Studio 10 introduces Themes of Slide Styles. A theme is a pack of several slide styles which can be applied in one click to multiple slides. Users can create new custom themes and share them
Other Improvements
Save/reset font command for a Text object in the Objects and animation editor
Show in Explorer command in the popup menu for files and folders in the File list
EXIF Date sorting method for images in the File list
TIFF and WebP images support
Faster work of the File list in a folder with a large number of images (1000 and more)
New video converter to trim video or downscale resolution
Improved quality of edge anti-aliasing for images and video clips with 3D rotations