200
Portable AquaSoft Stages v12.3.06 (x64) Multilanguage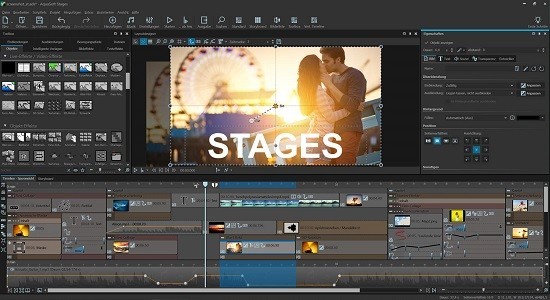 AquaSoft Stages Portable is a tool for professionals, photographers, animators, and ambitious advanced users who require maximal functionality from their software and want to control every moment of their project precisely. Keyframes, unlimited timeline tracks, and a huge selection of effects and transitions are designed to present your photos, videos, and animations in a professional manner. Other features like custom aspect ratios, custom dynamic parameters for Live-Effects, and the new advanced preview modes allow comprehensive and precise control of your projects. AquaSoft Stages is the solution to your sophisticated requirements - your tool to create animated image presentations.
Creating elaborate presentations that include images, videos, and audio tracks and that can also deliver an appealing visual experience is not always an easy task, especially if you do not have the proper tools that can help you in this pursuit.
AquaSoft Stages is one of the applications that can help you build presentations from scratch, add content to them, and arrange it in the manner you desire. Moreover, it makes it easy for you to export your creations to various websites or to burn them to disc immediately.
Add and manage multiple files
With the help of this program, you can add a large number of images, videos, and songs to your presentation. The content is displayed directly on the program's main window, making it easy for you to manage it.
The tool allows you to arrange images and videos in their presentations as you like, as well as to add background audio if needed. Moreover, you can apply image, text, fade-in, and fade-out effects to content and can also edit movement paths.
Preview presentations at any time
The tool provides you with the possibility to preview your slideshow after making any change to it, so as to assess whether it requires additional modifications or not. Moreover, it allows you to start the presentation from the beginning or at a particular time.
You can export your presentations to file, to be able to share them on various social networks or to publish them on specialized websites. Moreover, you can burn these slideshows to disc, directly from the program.
More than the sum of sound and sight: Surprise your audience with thrilling videos. Single elements of sound, photos, and video are converted to cinematic experiences. Behind every image is a story, a message that you want to deliver impressively to your audience. Develop your idea, build the framework of your movie, and reach your goal with the tools in AquaSoft Stages.
Features:
Video export with 4K-UHD and H.264/H.265
-With 4K-UHD video export, you get 4 times the quality of Full-HD. Thanks to the higher resolution, even the smallest details will stay sharp and in focus. Vibrant images that appear to be within one's grasp will enthrall your viewers thrust them directly into the action.
-Use the new H.265 video encoder to create videos with the smallest size possible, without losing quality.
Dynamic titles
-A professionally designed presentation requires text that matches the style of your photos and videos perfectly. With AquaSoft Stages, you can adjust your text and titles so they harmonize with your photos and videos.
Visual effects
-Choose from more than 100 effects, most of which can be customized and used in a variety of ways. Combine effects to create completely new impressions.
Animated routes
-Share your experiences with your viewers and show them the places you have been with an animated travel route.
-AquaSoft Stages offers a wide variety of map materials with different styles. Customize the look of each route to create unique animations.
Camera pan shots and zooms
-Control Ken-Burns effects, camera pan shots, and zooms directly with the Layoutdesigner. Set the duration and direction for each movement mark to highlight details and focus the viewer's eye on the important parts.
Dynamic masks
-Use dynamic masks in Stages to apply effects only to certain parts of your images and compositions or to hide/show partial areas.
-You can scale, animate, or modify the strengths of your masks during your presentation. A mask can be anything - an image, a text, a movie, or even a composition of several elements.
Control your animations with keyframes
-In AquaSoft Stages' integrated timeline, you can work with keyframes intuitively. Create and position your keyframes and optionally apply custom properties as Stages interpolates between them to create your animations.