200
Plugin Boutique Scaler 2 v2.4.1 WiN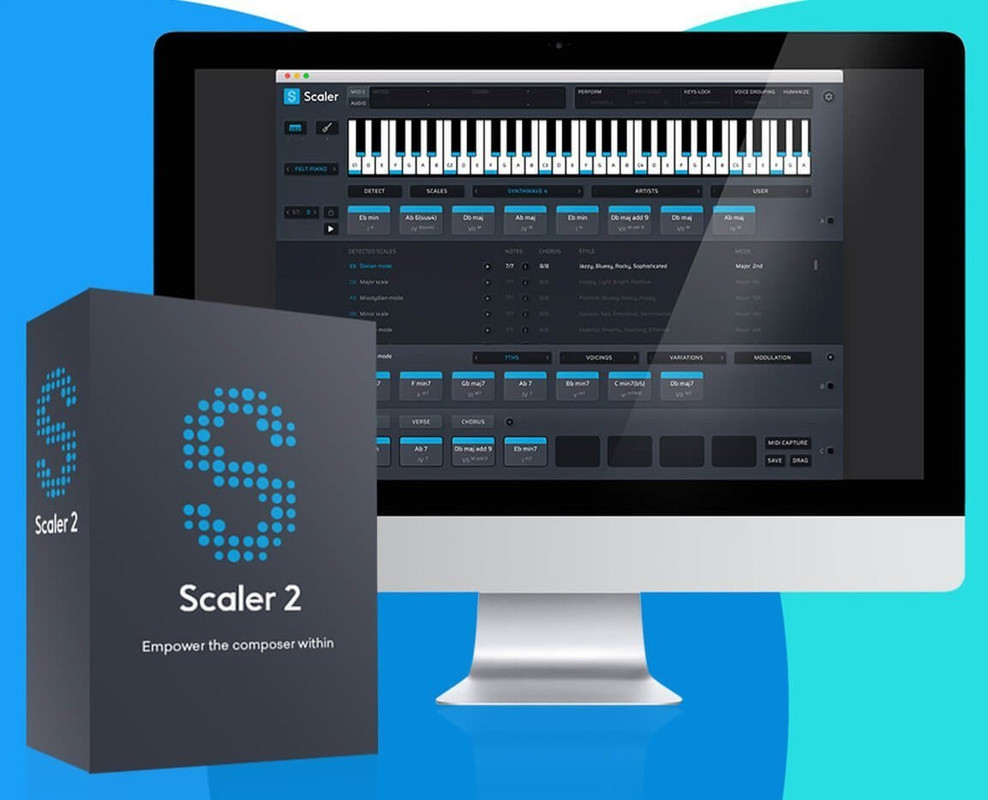 14 September 2021 | 1.05 GB​
Scaler 2 is an inspirational and powerful music theory workstation that gives you access to a world of new ideas, expressions and melodies. With powerful detection of MIDI and audio, Scaler 2 can determine what key and scale you're in and suggest chords that match your music. The plugin helps you discover the perfect melody with performance expressions, and can even suggest ways to change from one key to another.
Benefits
Discover your music's key and explore alternative scales and chord sets
Choose from hundreds of keys, quickly build progressions in the sequencer
Over 200 artist chord sets from the likes of Carl Cox, MJ Cole, The Temper Trap, Mitekiss, CeCe Rogers and Mike Huckaby
Over 200 genre and mood-based chord sets such as Chill, Drum & Bass, Jazz, Cinematic, EDM, Progressive.
Browse chord variations to get suspended chords, extended chords, dominant sevenths and jazz chords
Use the arpeggio or strum features to perform in real-time and synced to your DAW
Discover chord substitutions that lend variety to your progressions
Experiment with different chord voicings to spread notes across the keyboard
Export MIDI to your DAW simply by dragging and dropping
Assign any VST / AU instrument to Scaler 2 to control your favourite synths
Play and record one-finger chords and melodies using Scaler 2's Bind MIDI function
Whats new in this version:
2.4.1 (available 8th September 2021)
Content & Playback
New Common Phrases (Basic, Chordal & Progression)
New Basic Performances
Improve timing precision - Fix timing offset in recorded performance, prevent short notes from being added to recorded MIDI at looping points and prevent hung notes.
Add the ability to Quantise and Latch chords with Perform mode OFF
Fix "Chord+Melody" playback to avoid creating overlapping MIDI notes.
MIDI Mapping
Add the ability to manually select the MIDI CC to map from a dropdown when creating an action.
Add the ability to map "MIDI Panic" to a command binding
Add the ability to bind dropdown menus' "Previous" / "Next" command to a MIDI CC
Add new assignable commands for keyswitch actions (toggle chord/scale mode, toggle chord mute, switch melody patterns)
Add the ability to disable keyswitch (green keys) from the side menu.
Add the ability to override an existing command mapping.
Other Improvements
Fix - Extracted Voicing - Avoid creating an extra gap in octave when re-voicing extended chords
Include inversions when exporting MIDI markers (slash chords)
Fix multi-selection not applying changes when modifying multiple chords in EDIT matrix
Keys-Lock - "Scale Notes Mapped" profile now prioritise the natural position of each mapped note correctly.
Forcing a chord set into a scale now refreshes the chord colours and Section B properly.
Multi-selection of chords are now moved properly when dragged from a Section C pattern into an empty pattern.
Fix an issue causing the Keys-Lock settings to be lost when entering/exiting the Chord-Edit view.
Dragging a single chord with an expression ON now exports the duration of a single chord instead of the duration of the whole pattern.
Fix a bug in the generation of modulation pathways creating duplicate suggestions in Modulation Popup.
Fix an issue preventing the transposition of "Community" chord sets.
Fix an issue causing the "." button to appear in the wrong location.
The "MOD" button in the Quick-Navigation menu is now disabled when using an unsupported scale.
System Requirements
Windows 7 and later
64-bit compatible only