200
Pixelmator Pro 2.1.4 MAS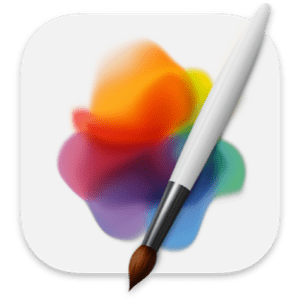 File size: 331.91 MB​
Pixelmator Pro is an incredibly powerful, beautiful, and easy to use image editor designed exclusively for Mac.
With a wide range of professional-grade, nondestructive image editing tools, Pixelmator Pro lets you bring out the best in your photos, create gorgeous compositions and designs, draw, paint, apply stunning effects, design beautiful text, and edit images in just about any way you can imagine. And thanks to its intuitive and accessible design, Pixelmator Pro is delightfully easy to use - whether you're just starting out with image editing or you're a seasoned pro.
Exceptional Design and Functionality
• The modern, single-window interface of Pixelmator Pro is designed exclusively for working with images on a Mac
• An intuitive and refined interface makes pro image editing easy and accessible to everyone - from complete beginners to design professionals
• With both dark and light appearances, Pixelmator Pro seamlessly adapts to the Light and Dark Modes of macOS
• A full-featured Photos extension lets you edit images using Pixelmator Pro without ever leaving Photos, saving layered, nondestructive edits directly to your library
Professional Tools
• Enhance your existing images and create new ones using every image editing tool you could ever need
• Edit nondestructively, adjusting individual changes whenever you like
• Easily move, resize, and arrange objects to create stunning compositions
• Adjust the colors in images with a collection of nondestructive color adjustments
• Use the Core ML-powered ML Enhance to automatically improve the look of your photos
• Enjoy superior support for RAW files, editing RAW images right inside Pixelmator Pro without having to preprocess them
• Create digital or traditional paintings using handcrafted, fully-customizable, dual-texture brushes with full support for digital graphics tablets
• Combine the built-in effects to create any artistic or special effects you can imagine
• Save the adjustment, effect, and layer style combinations your create, use them in any of your images, and share them with others
• Magically remove small imperfections or entire objects, seamlessly clone parts of your photos, and lighten or darken precise areas using a full set of retouching tools
• Use the reshaping tools to easily change the shape of any object or area in your images, create striking artistic effects or make subtle changes to portrait photos
• Add customizable vector graphics designed by the Pixelmator Team
• Create your own vector graphics using the Pen tool
• Easily design great-looking text with a full set of typography tools
• Quickly create curved, circular, and path text
• Optimize and save your images for the web, using advanced compression to shrink file sizes to the smallest possible
• Batch process images using built-in Automator actions
Image Editing Enhanced by Machine Learning
• Magically remove objects, recreating image areas with stunning realism using the Repair tool
• Use ML Enhance to intelligently enhance photos with a machine learning algorithm trained on millions of professional photos
• Zoom and enhance image resolution with the incredible ML Super Resolution
• Automatically copy the look of one photo to another with ML Match Colors
• Remove image noise and compression artifacts while preserving details using ML Denoise
• Quickly make accurate selections with ease using the Quick Selection tool
• Automatically give descriptive names to the layers you add
Compatibility
• Open and edit images in all the most popular image formats, including JPEG, TIFF, PNG, PSD, HEIF, SVG, PDF, GIF, BMP, TGA, WebP and JPEG-2000
• Open and edit Photoshop images with layers
• Open and edit SVG vector images
• Share your images to Photos, Mail, AirDrop and other locations right from Pixelmator Pro
Built Exclusively for Mac
Designed exclusively for macOS, Pixelmator Pro supports almost every major macOS feature and integrates seamlessly with macOS Catalina.
RELEASE NOTES
• macOS 10.14.4 or later
• Apple Silicon or Intel Core processor