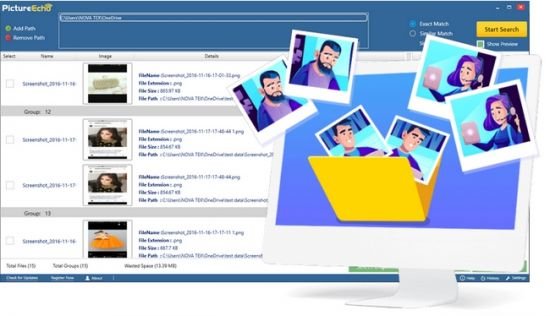 PictureEcho 4.1

File size: 7.91 MB
​
Your collection jumbled up with duplicate and similar pictures? Fix this problem with artful intelligence of PictureEcho. Photo viewing experience can be compromised due to 1000s of low resolution, poor quality, similar & exact duplicate pictures.
What can you do to fix this redundancy?
In case of a huge collection of photos, it can be daunting to go through drives, folders and subfolders to examine similarity in pictures. There should be an easy way to find and remove duplicate and similar photos to save space, organize collection and save time on managing pictures.
Identifying similar and duplicate images made easy
The PictureEcho finds visually same and exact duplicate pictures using its intuitive algorithm.
- Organize your images
- Delete similar pictures
- Remove 100% duplicate photos
Features & Functions
- Visual Similarity Detection
- 4 similarity levels to choose from — accurate, complete and clear results shown
- Exact Duplicate Photo Finder
- 100% same photos identified as duplicate pictures
- Automated Selection of Duplicate Photos
- Select photos based on file size, resolution, file history and location
- Remove Duplicate and Similar Image
- Permanently delete duplicate photos eating up disk space
- Image Preview and Details
- Preview results, analyze and take action on the duplicate and similar photos
- Move Duplicates to a New Folder
- Make a new folder and move duplicate images in it
- Adobe Lightroom Duplicate Photos Scan
What's new
• official site does not provide any info about changes in this version
System Requirements: Windows 11, Windows 10, Windows 8.1/8, Windows 7
Homepage
Buy Premium Account From My Download Links And Support My Hard Work