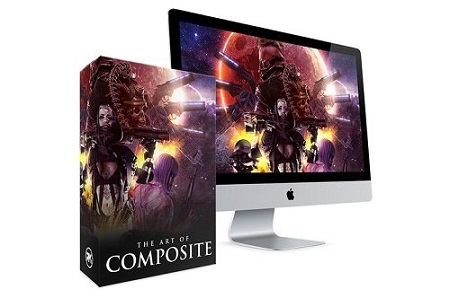 Photomanipulation - Art of Composite: Photoshop Video Training Bundle
MP4 | Video: h264, yuv420p, 2560x1440 | Audio: aac, 48000 Hz | Duration: 15h 50m | 44.9 GB
Genre: eLearning | Language: English​
Module 1 | PREP WORK & PLANNING
8 VIDEOS | 95.5 MINUTES
In this module you'll learn how to prepare and plan for your Photo Manipulation / Compositing projects, as well as essential fundamentals for understanding Colour, Light, and Composition.
Module 2 | FOUNDATIONAL TOOLS
8 VIDEOS | 107.5 MINUTES
The Foundational Tools Module will teach you the ESSENTIAL tools for creating Photo Manipulation / Composite artwork.
Lessons cover Compositing Tools (Pen Tools, Selections, Layers, Layer Masks, Clipping Masks), and Processing Tools (Adjusment Layers, Layer Blend Modes, Curves Adjustments, Brushes, and Smart Objects).
Module 3 | COMPOSITING
7 VIDEOS | 78.8 MINUTES
The Compositing Module gives you the tools and building blocks for creating high-drama composite artwork.
You'll learn Colour Matching, Perspective, Tonal Values, Shadows, creating the illusion of Depth, and much much more.
Module 4 | STYLING & PROCESSING
7 VIDEOS | 94.5 MINUTES
With Styling & Processing you'll learn how to add the final 'polish' to your artwork, ready to show your client, or share to your online portfolio.
Lessons cover a massive collection of hacks, tricks, and final touches - including lessons in Dodge and Burn, adding Light and Atmosphere FX, tweaking Contrast, Color Grading, Sharpening, and more!
Module 5 | FULL WALKTHROUGHS
5 VIDEOS | 9.2HRS
With an understanding of Prep Work, Foundational Tools, Compositing, and Processing - you can put your new skills into action with these full-length Project Tutorials.
FULL Walkthrough Lessons include: Editorial Composite, Fantasy Scene, Movie Poster, and SciFi Character.
FULL WALKTHROUGH 1 | Editorial Composite
The first full length walkthrough will 'ease you' the Photoshop workflow, with a more straightforward / basic composite - a magazine style editorial image!
With this lesson you'll learn how to combine your new technical skillsets, to create professional looking composite artwork.
FULL WALKTHROUGH 2 | Movie Poster
With the study + learning out the way... this is when things start to get INTENSE!!
In this full-length walkthrough Clinton will show you how to combine all of the Theory, Software Tools, and Compositing know-how, to create a complex / high-octane movie poster.
FULL WALKTHROUGH 3 | SciFi Character
In this full-length walkthrough you'll be working on a more 'character focused' project, designed to fine-tune your skills in adding Details, Flourishes, and Finishing Touches...
This walkthrough uses stocks from the Cyber Dystopia character set (1000+ assets, JPG and pre-cut PNG!), which is included with this video training bundle!
FULL WALKTHROUGH 4 | Fantasy Art
So there's a LOT of scifi in this course... how about some FANTASY?
In the Fantasy Art walkthrough, you'll learn that there's a tonne of different approaches to: theme, aesthetic style, and palette. This lesson is designed to get you out of the 'comfort zone' and explore more muted / realisitic tones with your work.
REFERENCE PSDs
Reverse-engineer and LEARN HOW IT'S DONE with these (fully-layered) PSD documents!
Homepage
Screenshots​
Link Download
​
Download Via UploadGig
Download Via Rapidgator