200
MAGIX Photostory 2022 Deluxe 21.0.1.76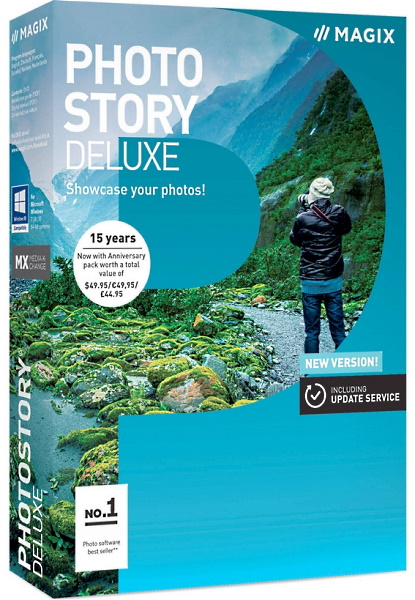 Windows 10/8 / 8.1 (64-bit only)
Interface language: Multilanguage / English
Medicine: crack
File size: 1.14 GB​
MAGIX Photostory - you can create captivating videos from your most beautiful photos. In no time, customizable and in resolutions up to Ultra HD. You will be able to relive and demonstrate to your friends and acquaintances on the screen of your computer, TV or smartphone all the best moments of life in the form of a photo story.
The completely redesigned software user interface offers you an even more overview display. Modern icons make the work with the program even more intuitive, which allows you to turn your most beautiful memories into an individual photo story in the blink of an eye.
Main functions:
• For all camera formats, including HEVC **
• 8 tracks for random placement of photos, videos or music
• Work with 360 ° recordings and panoramic editing
• Perfect image stabilization with proDAD Mercalli V2 technology
• Automatic improvement of image quality and transfer of views
• Impressive templates for titles and editing
• Fantastic effects, intros and endings, decorations, music and more.
• Convenient animation of travel routes
• Highest quality (3D and 4K resolution)
New Photostory features:
• Optimized Photostory Wizard
The Photostory Wizard makes importing your photos and videos even easier.
An overview and intuitive user interface with all important functions allows you to automatically create photo stories to the beat of your own music.
A few keystrokes are enough to get a ready-made photo story, which, if desired, can be further modified and creatively designed in the main program.
• Editing photos in full screen mode
Beauty in every detail: From now on, you can process photos in Photostory Deluxe in full screen mode and creatively complement them with effects. Thus, you can view photos with maximum sharpness even before their presentation.
• Editing slideshow
Each story is unique! Therefore, the sequence of photos can be changed in the Photostory assistant using the Drag & Drop function. Another novelty: the overlay of texts in different styles.
• New Music Photostory
New music will truly bring your photo story to life. And with a wide selection of new songs in genres such as Chillout, Lounge, Rock and Pop or House, you'll find the right soundtrack for any story.
• Automatic transfer of the view
Transfer the desired view from one record to another.
Colors and shades will be automatically applied to the new material, thus creating a uniform color space.
• Creative effects for the edges of images
The unwanted black edges in vertical format of your photos can be modified with special effects to fit perfectly into your photo story.
• Transfer of media materials
Camera MX Take action photos and videos with Camera MX.
You can then transfer the media from your Android smartphone via WLAN-Projekt-Transfer directly to Photostory Deluxe.
• New design elements
Lots of new content elements will give your photo stories a film-worthy look. For example, now in Photostory Deluxe you can take advantage of an even larger selection of intro / outro templates and transitions.
Other professional features:
• Processing 360 ° materials
Decide on the desired fragment of your 360 ° panoramic shot and create a dynamic shot in motion.
• Image stabilization of the highest level
With the help of proDAD Mercalli V2 technology, you can save materials that are completely unusable at first glance for your photo story.
• Full color correction
Use the automatic image optimization function or process individual color areas yourself down to the finest detail.
• High quality templates for titles and movies
Themed templates for any occasion. Opening credits, ending credits, chapter separators and subtitles you can very easily arrange to your liking.
• Huge archive of sound effects and music
More than 750 professional sound effects and music will help you to fully voice your photo stories.
MAGIX Photostory Deluxe advantages:
• For all camera formats, including HEVC
• Support of the new 4K resolution
• 8 configurable tracks for photos, videos and music
• Edit 360 ° footage and create panorama montages
• Perfect image stabilization with proDAD Mercalli V2
• Automatic image optimization
• Amazing titles and editing templates
• Fantastic effects, decorative elements, music and more
• Convenient travel route animations
• High output quality in 4K resolution and 3D
• Slideshows for TV, PC, Web, Blu-ray, projectors and mobile devices
• Create slideshows automatically
• Integrated video editing for video clips
• HDR effects
• Detailed travel route animations
• Professional movie templates
• Extensive color correction
• Artistic photo collages
• Customized zooms and panning shots
• Powerful audio dubbing (eg images that change to the beat of the music)
• Dynamic effect changes
• Touch elements - no mouse needed
New in Photostory Deluxe 2022
Optimized according to customer feedback: MAGIX Travel Maps
The travel route animation in Photostory Deluxe 2022 offers users a revamped menu, fullscreen mode, MP4 export and new creative possibilities for design.
Now featuring an audio track: The new Panorama Storyboard
Starting now, an audio track is also available on the clearly arranged Panorama Storyboard. This makes it even easier to add an audio commentary and music to your animated slideshows.
Comprehensive graphics card support
Boosted performance for graphics cards from Intel, Nvidia & AMD: Enjoy fast import, smooth editing and ultra-quick export that's faster than in realtime * thanks to comprehensive GPU acceleration.
System Requirements :
You need a 64-bit version for the following operating systems:
Windows 10, Windows 8
Processor: 2 GHz (Quad-core processor with 2.8 GHz or better recommended)
RAM: 2 GB (4 GB recommended)
Graphics card: Onboard, minimum resolution 1280 x 1024 (Dedicated, at least 512MB VRAM recommended)
Sound card: Onboard
Hard drive space: 2 GB for program installation
Program languages: English, Deutsch, Français, Español, Italiano, Nederlands
Whats New in MAGIX Photostory 2022 Deluxe