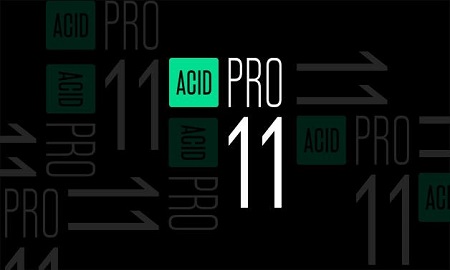 MAGIX ACID Pro & Pro Suite 11.0.1.17 Multilingual
Windows x64 | File size: 412.13 MB / 418.89 MB​
ACID Pro is revolutionary, loop-based music production software. It combines full multitrack recording and mixing, MIDI sequencing, and looping functionality for a seamless studio production environment. With its Transparent Technology design, ACID Pro 11 software removes typical barriers to the creative workflow so you can effortlessly transform ideas into real results.
This MAGIX software addresses even the most complex audio production tasks with ease. You get the advantages of full-on DAW functionality paired with the built-in time stretching and pitch shifting features that revolutionized music and shook the industry.
ACID Pro 11 is the creative DAW, designed for every producer to realize their music making ambitions. Record high-quality multitrack audio into ACID's sleek, 64-bit environment, and then use its world-famous and innovative audio looping technology for super-fast composition. Add hi-end effects and mastering features to tweak your creations to perfection.
Making music with ACID Pro is unlike using any other DAW. Its loop-based technology is extraordinary, seamless and aids your creative workflow. Add incredible remix options like Chopper, powerful mixing features and professional effects and it's the ultimate recording studio, but inside your computer.
Beatmapper and Chopper let you import any song and remix it with new loops and effects. Or take an audio file, re-order it, change its groove and remix it into completely new samples. Use the brand new MIDI Playable Chopper to turn your DAW into a performance-based MPC-style instrument!
ACID Pro 11 Features
ACIDized Loops
Acidized loops let you manipulate audio material and mangle with stems in a heartbeat. Find countless creative possibilities in a simple and convenient framework. Faster Beatmaking
Faster Beatmaking
Take your production to the next level with innovative and fun sample tools. Chop up any sound signal and map your samples on a hardware device using the MIDI Playable Chopper.
Innovative effects
Taylor your sound with innovative and world-leading effect plug-ins helping you to translate the sound in your head. Experiment with new interface designs or simply get the job done with intelligent mastering tools.
Creative content
Treat yourself with countless sounds provided on board and explore even more content in ACID's own in-app store. Find exclusive artist packs and evolve in a cosmos of music legends!
ACID x BRAINWORX
ACID teamed up with BRAINWORX to provide you with some of the finest hardware emulations on the market today. Add the unmistakeable sparkle of analogue gear to your mix and enter a world of sonic perfection.
Control Surface support
ACID Pro supports Mackie Control Universal and Frontier Design TranzPort MID controllers. You can use one Mackie Control Universal (with up to four Mackie Control Universal Extenders), one Frontier TranzPort, and up to five generic control surfaces with ACID. Control surfaces can be custom mapped and help you stay organized by knowing which channels are dedicated to external control.
Drop the Bass
ACIDized loops are more than just audio files. They contain information on length, transients and even key of the samples. ACID analyses the file and uses the information to manipulate the sound and pitch with ease.
Innovative loop-based music creation
Version 11 retains all the classic ACID Pro features including real-time pitch/tempo transposition during playback and preview, unlimited tracks, and our signature pick/paint/play interface. The software also includes 90 virtual instruments so you can start creating music right out of the box.
Comprehensive MIDI support
Experience unparalleled MIDI sequencing in ACID Pro, with real time MIDI processing and precise control over MIDI events. Use track envelopes to automate and modify modulation, expression, or other types of MIDI controller data.
Professional effects and synth support
Expand your palette with native support for VST instruments and plug-ins. Create resonant sweeps, EQ changes, and add effects with parameter automation. ReWire and ASIO support help you smoothly integrate ACID Pro software with your existing studio.
Multitrack recording
ACID Pro 11 offers uncompromising 24-bit, 192kHz multitrack audio recording. With an array of pro-level features, it and is equally at home being used for the recording an entire band in the studio as it is for creating loop or MIDI-based compositions on the road or at home.
High-fidelity audio
The software has a 64-bit engine and really works with your PC to bring maximum power and efficiency to your music making. Whether you are making 24-bit, 192kHz multitrack recordings, mixing with multiple effects in real time, or composing with the dozens of plug-in instruments, ACID Pro will step up to the plate and offer you all the latency free power you need.
Superior mixing
With a dedicated and fully-featured mixing console ACID Pro offers an incredibly flexible recording environment. It's easy to assign plug-in effects, adjust the routing or work with external effects and MIDI devices. ACID Pro supports control surfaces such as Mackie Control and Frontier Design TranzPort so you can enjoy a more traditional hardware mixing experience.
Arrange Tools
ACID Pro offers many creative tools for today's producer. It's easy to divide your project into logical sections and then arrange them on the timeline. Yo can organize tracks placing them into Track Folders. And then cluster editing allows you to drag, pitch-shift, cut, copy, and paste whole sections of an arrangement to help you easily create complete tunes.
Easy audio encoding
ACID Pro features powerful encoding functionality so you can save your songs in all of the popular streaming formats used on the Web. And also in formats used by your favorite portable players. Supported formats include MP3, WMA, WMV, AAC, FLAC and more.
Integrated CD burning
ACID Pro software has integrated track-at-once and disc-at-once CD burning. So you can burn audio CDs directly from the timeline at any point in the production process.
What's new in ACID Pro 11?
System Requirements
Windows 11, Windows 10
Processor: 1 GHz (multicore or multiprocessor recommended)
RAM: 1 GB (8 GB recommended)
Graphics card: Onboard, min. resolution 1024 x 768
Sound card: Onboard
Hard drive space: 700 MB for program installation, up to 16 GB for included instruments and loops
Program languages: Deutsch, English, Español, Français
Link Download
​
Download Via UploadGig
Download Via Rapidgator