200
Luminar AI 1.5.0 (8567) Multilingual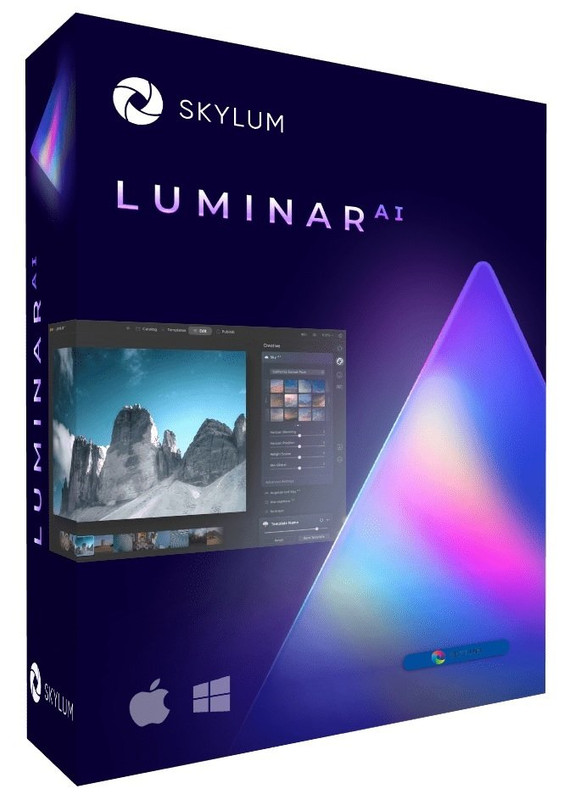 Windows x64 | Languages: Multilingual | File Size: 840.63 MB​
AI photo editing. Awesome. Faster. The first image editor fully powered by artificial intelligence. With Luminar AI, creating striking photos is fun and surprisingly easy. Add realistic atmospheric effects with 3D depth - fog, mist, haze, steam, drizzle - with Atmosphere AI. Create a magical mood without masks and layers.
Atmosphere AI
Add realistic atmospheric effects with 3D depth - fog, mist, haze, steam, drizzle - with Atmosphere AI. Create a magical mood without masks and layers.
Structure AI
Enhance details in all the right places, without overdoing it. Structure AI recognizes people, water, skies and objects. Add depth and clarity to a scene to just the needed areas.
Sky AI
Сhange the sky in your photo in seconds and create a whole new mood. It works perfectly even with tiny details intersecting your sky. Relight the entire photo so the colors of the original image shift to match the lighting and colors of your new sky.
Color Harmony
Move beyond Saturation and Vibrance. Take complete control over color depth and refine color for balance. The perfect finishing touch.
Supercontrast
Adding detail brings new depth to a photo. Precisely adjust tone with six controls spanning highlights, midtones and shadows.
Mood
Bring color to life with our Mood tool. Experiment with new color palettes that transform the style and emotion of your image.
Achieve great composition from any angle
You'll always get the perfect crop with Composition AI. Smart engine blends the golden rules of composition plus the expertise of the world's best photographers.
Give a magic touch. For people & portraits.
The revolutionary AI works magic on faces and bodies of all shapes, ages and colors.
The best part?
You don't perform manual selections, masking, layering and other tedious tasks of traditional photo editors.
Body AI
Make bodies appear lighter or add weight where needed, for a realistic and stunning effect.
Iris AI
Create expressive and breathtaking eyes, with a natural spark that brings a face to life.
Face AI
Improve faces naturally, enhance lips, teeth; remove unwanted dark circles and more.
Skin AI
Instantly remove blemishes while preserving pores, texture and hair.
Accent AI
Get natural lighting and life-like color for every portrait with a single "magic" slider.
Bokeh AI
Emulate the stunning background haziness of a high-quality lens. Let the person in the photo stand out.
Yes. You're in complete control.
Luminar AI lets you deliver your creative vision as fast as possible. Artificial intelligence takes care of the dull and routine work. But you can edit and fine-tune every step of the way.
Your story matters not the process
Let's face it - traditional photo editing can be tedious and time-consuming. Luminar AI is all about the results, not the process. It automates the most common editing tasks and simplifies complexity so you have more time to tell an engaging story.
Powerful doesn't mean complex
The actual power of Luminar AI is hidden under the hood. Luminar AI is packed with incredible next-gen technologies, giving you more capabilities than any traditional editor.
RELEASE NOTES
Spectacular portraits with Luminar AI Update 4
Helping you explore your creativity and making your editing experience comfortable are our top priorities. In this update, we bring you the power to create spectacular portraits with a unique AI-based bokeh effect that takes into account image depth. You will also find many improvements that make editing even more comfortable. Let's dive right in.
Spectacular people thanks to Portrait BokehAI
Want to achieve dreamy and spectacular portraits with just one slider? Now you can. With the help of artificial intelligence, Portrait BokehAI creates a beautiful background blur in seconds, adding a realistic and dreamy 3D bokeh effect to your portraits.
Use Portrait BokehAI to automatically emulate the stunning background haziness of a high-quality lens at maximum aperture. Easily add volume, airiness, and depth to your photos. Hide imperfections in an unfocused background. Let the people in your images stand out without needing a powerful light-sensitive camera or when shooting in harsh lighting conditions. Thanks to AI, this tool recognizes people from the waist up, groups of people, and people in unusual positions and applies all changes automatically and effortlessly.
With Portrait BokehAI, you don't have to waste time on masking. Simply use the Amountslider to regulate the amount of background blur and the tool's algorithms will separate people in the foreground from scenery in the background, putting the spotlight on the people. For those who want to correct imperfections, the Brush Control tools are at your service. (You can adjust the brush Radius, Softness, and Opacity.) If you need something in the background to stay in focus, or if you want to add additional detail in a subject's hair, you can use the Focus and Defocus tools and mask the area of your photo that you wish to be affected. Restore allows you to return to the original automatically generated mask. In the Background controls, you will find sliders that help you gain even more control over the results, including by enhancing brightness, pulling up background highlights, and refining edges.
Better workflow with visual Texture previews
Create fantastic compositions and stunning effects with the improved Textures tool, which gives you a more comfortable workflow. In the Local Masking tab, click +Add and select Texture. Now you can visually browse Textures in the dropdown list to instantly have an idea of what your final result will look like (just like in SkyAI and Augmented SkyAI). Custom Textures are also shown right after various default selections in the visual dropdown grid: you'll see Flares, Sparkles, Custom, and will be able to add more.
Perfect sky positioning in SkyAI
To deliver perfect and realistic results, we're constantly improving the algorithms behind our AI tools. In Update 4, you can enjoy significant improvements to the SkyAI tool. One of these improvements is a new slider that correctly adjusts the position of the sky. Now you can replace the sky and set the desired position of your horizon line thanks to the Shifting Horizon Control in the Sky Orientation section. Instead of Vertical Position, Horizontal Position, and Horizon Blending sliders, there is now just one smart control that saves time and is more efficient at getting the replaced Sky Texture just where you want it.
...To top it all off, we caught some bugs!
To make LuminarAI even more convenient to use, we've caught and fixed more than 50 bugs, including 8 major bugs on macOS and 7 major bugs on Windows that could lead to crashes or unexpected results. Thanks to these bug fixes, you can now:
Windows
Add transparent PNG Textures to your photos without encountering artifacts
Use LuminarAI as a Photoshop or Lightroom plugin and see the right-side Templates and Edit tabs without a hitch
Enjoy better disk space optimization
Export files in raw format without experiencing crashes
Work in Augmented SkyAI, SkyAI, and AtmosphereAI without experiencing memory leaks and crashes
Open Templates created in LuminarAI on macOS
Export multiple photos while retaining the original resolution
System Requirements:
Hardware: Windows-based hardware PC with mouse or similar input device
Processor: CPU Intel® Core™ i5 or better, AMD Ryzen™ 5 or better
OS version: Windows 10 (only 64-bit OS).
RAM: Memory 8 GB RAM or more (16+ GB RAM is recommended)
Disk space: Hard disk 10 GB free space; SSD for best performance
Display: 1280x768 size or better
Graphics: Open GL 3.3 or later compatible graphics card