2.9K
Live Wallpaper HD 5.1.0 macOS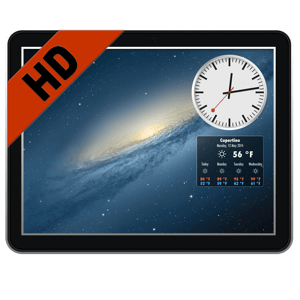 Language: Multilingual | File size: 601 MB
Live Wallpaper HD offers a selection of beautiful, themed scenes that will add life to your desktop. From cityscapes and sunsets to far away galaxies - each with a cleverly integrated clock and weather widget - your screen will always have that special touch.
Customise your weather widget and clock style and also create your own personalised wallpaper by using your favourite pictures.
Features:
14 live desktop wallpapers plus option to design your own
Use your favourite photos and select your favourite clock and weather widget style for a customised wallpaper
Detailed weather forecast window by clicking the dock icon
Current time in various analog or digital styles
Current conditions and weather forecast supporting multiple locations
Show desktop functionality that doubles as a screen saver with a timer to reveal wallpapers when your computer is idle
Hot corners can also be used to instantly activate the app as a screensaver
Informative Dock icon shows at-a-glance weather conditions and temperature (current, today\'s or tomorrow\'s forecast) even when wallpaper is not activated.
Wallpapers can be selected individually or randomly with a timer
App can show either Fahrenheit or Celsius temperature units
Most wallpapers are in Retina resolution (2880x1800). Moving scenes are all Full HD (1080p)
Top In-App Purchases: Full Version - included
RELEASE NOTES
+ Bug fixes and performance improvements
Supported Operation Systems:
macOS 10.11 or later
You must reply in thread to view hidden text.