Alpha and Omega
Member
Access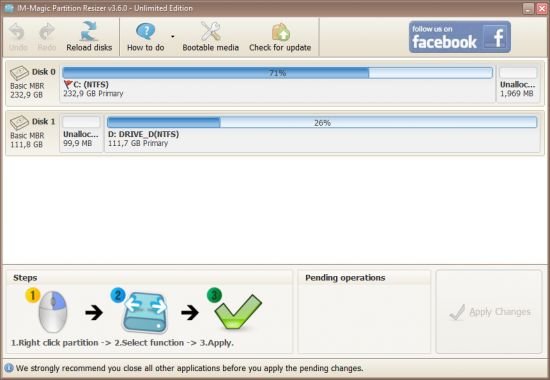 IM-Magic Partition Resizer 4.4.2


All Editions | File size: 11 MB

​
Extend any partition without data loss? Download IM-Magic Partition Resizer, the free partition magic software to help expand, move, shrink, and merge partitions without destroying the data. It only requires a few clicks from you to command the program move the fences to rearrange the disk partition territory and keep your files untouched.
Extend C System Drive
C drive running out of space? Resizer Free helps to increase the boot volume to save your system from reformatting disk, reinstalling operating system, moving data to other places. Resizing the system partition would be an easy job to perform even for tech naives.

100% Safe - Rollback Tech
With unique roll-back power, this program will never hurt your data nor partition and provides a 100% of safety for the whole repartitioning even when your computer was shut down accidentally during the resizing.
Shrink/Extend Partition
Shrinking/Extending disk volume size without losing data is possible with IM-Magic Partition Resizer Free. You may decrease a large volume which holds too much free space without formatting it. Extend partitions with data untouched.
100% Data&OS Untouched
When your disk partitions are either running out of space or with a lot free space, you may use this freeware to re-arrange the fences for better computer performance. Resizing is 100% safe with Resizer Free on the same disk.
Editions:
All Editions.
HOMEPAGE
DOWNLOAD RAPIDGATOR
DOWNLOAD UPLOADGIG