Alpha and Omega
Member
Access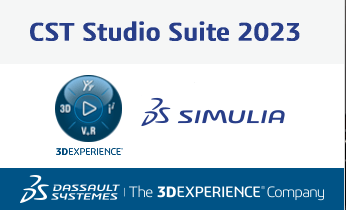 DS SIMULIA CST STUDIO SUITE 2023.01 SP1 (x64)
x64 | File Size: 5.62 GB
​
Description
CST Studio Suite 2021 builds on industry-leading simulation technology with a range of new features for the design, simulation and optimization of components and systems. New features include encrypted data sharing, the next generation of Perfect Boundary Approximation (PBA), full integration of the voxel body model poser, and the hybrid solver for bidirectional hybrid coupling between all the general purpose high-frequency solvers.
The 2022 release is also available on the Dassault Systèmes 3DEXPERIENCE platform, allowing direct links to other design and simulation tools.These tools increase the agility of CST Studio Suite for modeling and simulating complex systems, and allow electromagnetic simulation to be applied in large projects spanning multiple departments and suppliers.
Facilities and software features of CST STUDIO SUITE
-Local graphical user interface based on Windows
-Multiple interface between documents
-Tools variables, parameters and the message window
-(OLE) Linking and Embedding Automation Server (COM / DCOM)
-Transfer Parameters
-Automatic Optimization
-Animation Layout
-Automatic creation of power point slides
-Project Management
-Ability to switch between different software components, including
-CST DESIGN STUDIO (CST DS), CST MICROWAVE STUDIO (CST MWS), CST EM STUDIO (CST EMS),
-CST PARTICLE STUDIO (CST PS), CST MPHYSICS STUDIO (CST MPS), CST PCB STUDIO (CST PCBS), CST CABLE STUDIO (CST CS)
Components include a CST STUDIO SUITE
-CST MICROWAVE STUDIO - CST MWS: edge tools for speed and accuracy leading up to the three-dimensional simulation of high-frequency devices.
-CST EM STUDIO - CST EMS: simple tools for design and analysis of static and low-frequency devices such as motors, sensors, transformers and ...
-CST PARTICLE STUDIO - CST PS: to simulate the motion of charged particles, all based or otherwise. This includes the electron gun, cathode ray tubes and tools from the hand.
-CST CSBLE STUDIO - CST CS: to simulate the entire signal detection and analysis of electromagnetic compatibility or incompatibility of cable glands.
-CST PCB STUDIO - CST PCBS: to simulate the sound signal and detect electromagnetic compatibility or incompatibility of the printed circuit board.
-CST MPHYSCIS STUDIO - CST MPS: to analyze the thermal and mechanical stress.
-CST DESIGN STUDIO - CST DS: The tool is versatile and combines circuit simulation to electromagnetic helps
What's New in CST Studio Suite 2022
Advanced Modeling, Schematic and Post-processing
-Modeling Stackup bending enhancement
-Schematic usability enhancement, such as hierarchical Design Studio block and MDIF block
-Dedicated 5G Post-processing
-Human model library and other enhancements in Bio- Electromagnetics
Antenna and Microwave Component Design
-Antenna Array workflows and solver enhancements
-Eigenmode analysis support for Hexagonal Unit Cells
-Sensitivity analysis for Geometrical Parameters and post-process tuning
Electronics
-Support non-circular drill shapes in PCBS
-DDR4 Analysis improvements
-IBIS & IBIS-AMI buffer models - improvements and Component Library examples included
-Drift diffusion solver for semiconductor devices in micrometer range.
Communication and Detection
-Meshing robustness and performance improvements
-Time domain solver performance improvements: MatrixCalc with MPI, 3D field monitors on GPU,general performance improvement
-Interference task workflow and performance improvements
-Integral equation solver supports thin planar dielectrics, NFS and symmetry planes
-Asymptotic solver Channel Impulse Response (CIR), Range/Doppler map
Electromagnetic Compatibility and interference (EMC/EMI)
-pRLC solver - Open Boundaries and improved Capacitance Results
-Direct Access to IDEM fitting in Design Studio
-Reduced spectral leakage with FFT Windowing for transient tasks in Design Studio
-Thin Panel support with frequency domain solver
-Simulation speedup for complex bi-directional cable o-simulation
Electric Drive Design
-Efficient End-winding simulation (broadband)
-Powertrain System simulation with Partial RLC Solver now with Linux support of exchange formats.
-Considerable speed improvements for Powertrain System Simulation
System Requirements
OS:Server 2008 R2 SP1 / Windows 8.1 / Server 2012 R2 / Windows 10
Minimum requirement
CPU:Intel x86-64processor
Memory:16GB RAM
GPU:100% OpenGL compatible graphics card
Storage:30GB of free disk space
High end server/ workstation recommendation
CPU
ual Intel Xeon Scalable (also known as "Skylake" ) processor
Memory:32- 64 GB per CPU
GPU:NVIDIA Quadro series card dedicated to CAD/CAE applications
Storage:At least 500GB hard disk drive/SSDs may be used, but are not necessary for good simulation
HOMEPAGE
DOWNLOAD RAPIDGATOR
DOWNLOAD UPLOADGIG