Clear Disk Info 2.3.1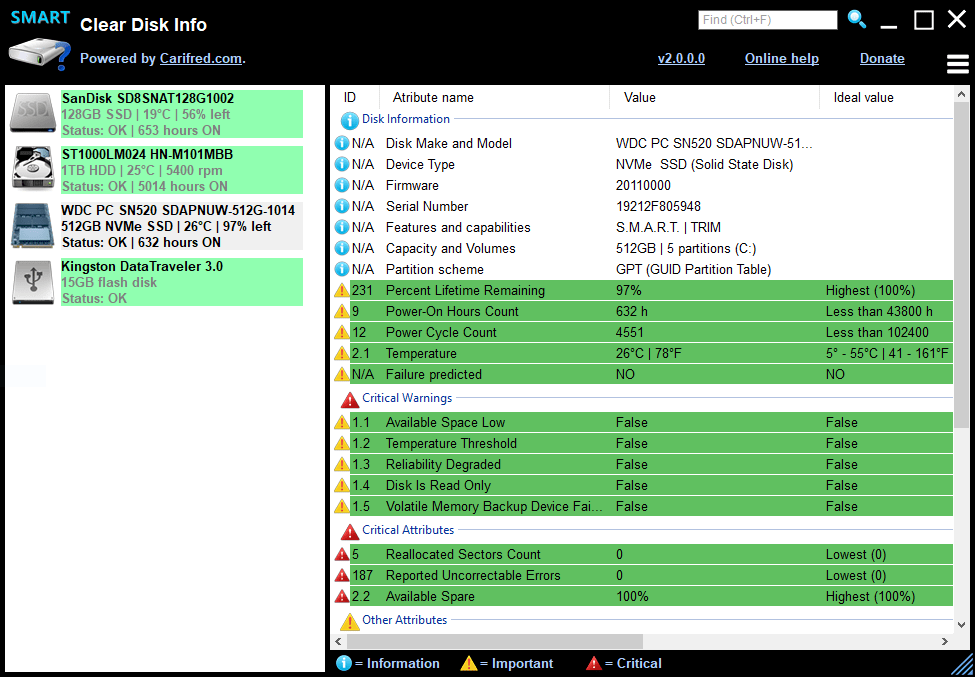 File size: 0.7 MB
Clear Disk Info is a free software program that provides a clear view of health related information about connected storage devices. Keeping an eye on storage devices is essential when you work with computer systems. A storage device failure could lead to data loss or corruption of system files that prevent certain functionality or the system from booting at all. This tools supports S.M.A.R.T. monitoring, NVMe health log and USB connected devices. Unlike most tools of the same kind, Clear Disk Info displays the information in a human readable, user friendly way.
Clear Disk Info is a storage device diagnosis utility. It displays some basic information about the selected disk, and also S.M.A.R.T./health information. Clear Disk Info supports hard disk drives (HDD), solid state drives (SSD) and also the most recent NVMe SSDs.
The main reason why we created Clear Disk Info is that most existing tools of this kind display the S.M.A.R.T. attributes in a raw way, and in order for us to understand them we have to go digging over the internet. And even after that, in most cases we're not sure if the relevant data is the Raw Value or the Current value, or both, or whether the Threshold value is meaningful in each line.
Often, we have to make complicated arithmetic operations to calculate whether an attribute is below the threshold. This is where Clear Disk Info comes in handy, because it performs those calculations automatically for you.
Clear Disk Info displays only the actual, meaningful value in the one column, the ideal value in the next column, and also a description of that attribute. This way we don't need to go online searching for instructions or perform complicated operations because everything is already there.
Clear Disk Info can display some information about pen drives and SD cards connected through USB ports, but the amount of information that can be retrieved through the adapter is usually limited.
Whats New