Ashampoo Backup Pro 16.03 (x64) Mutilingual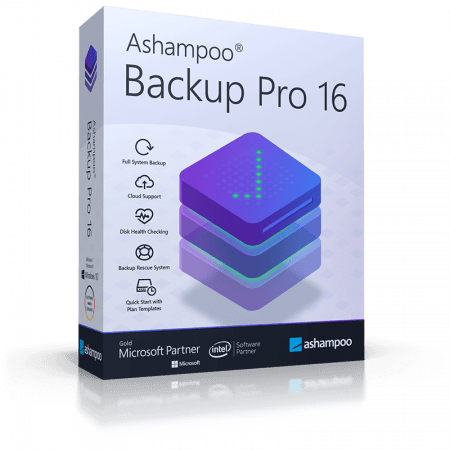 File size: 112 MB
Ashampoo® Backup Pro 15 takes the fear out of viruses, ransomware, or hardware issues! Experience an easy to use well-designed but powerful backup solution. The new Ashampoo® Backup Pro 15 offers you all possible storage options: Back up single files to entire partitions to local drives or online storage providers. In addition, the program is light on resources, gets out of your way and does all the heavy lifting in the background. Naturally, it can also restore your backups. Ashampoo® Backup Pro 15 even comes with a bootable rescue system to restore your system in the event of major system failure! To strip windows® updates off their threat
Well laid out user interface with all important information
Single-click access to all important menus
Presets for ready-to-use backup plans
Handy backup plan overview
Detailed information on each backup
Up-to-date cloud support
Extensive online help and printable PDFs
Better stability, flexibility and performance
A fresh new start with Ashampoo® Backup Pro 15 1-Click access to everything important to you!
Ashampoo® Backup Pro 15 not only looks gorgeous but presents all relevant data right in the new start menu. You'll get an instant overview of the state of your backups, including validation, plans, and pending issues. A single click then takes you to backup plan management or any other essential program section. Never before has Ashampoo® Backup Pro been this clean, well laid out, and completely self-explanatory!
Tailor-made backups with Ashampoo® Backup Pro 15 Quick backups or custom plans in just a few clicks
Our backup solution works for everyone, from beginner to data security specialist. That's why we've made our backup plans as flexible and versatile as possible! The new presets save your data in just a few clicks. Would you like to back up your documents only or your entire system? Do you want to save your emails, contacts or browser data? Or do you prefer a more refined approach with custom plans specifically tailored to your needs? Even highly sophisticated backup plans only take a few clicks. Simple or sophisticated, creating backup plans is a breeze with the new Ashampoo® Backup Pro 15!
A new look at your backup plans Your backups neatly and tidily listed with custom views
Ashampoo® Backup Pro 15 features a new handy backup overview that has all the information you need. Find out instantly about recent or upcoming backups and access in-depth details or restore, verify, view, and delete individual archives in a single click. Experience maximum clarity and get the backup management you've always wanted!
Take a closer look at individual backups Keep track of your backup plans and view important details
The new details view provides essential information about your backups, like previous and next run as well as save location. Information about file origins and backup type is also included. Even keeping track of multiple backups running in parallel is no longer an issue. And you can also create detailed reports to find out exactly what is going on with each of your plans. Naturally, you'll be instantly notified should things go wrong, e.g. because your external hard disk is full!
Your lifesaver with UEFI support Rescue system to recover corrupted operating systems
Once your PC becomes infected, e.g. through malware, or your hard disks crash or malfunction, your operating system is done for-with reinstalling Windows plus all of your programs being the only path to go forward, unless you have a clean backup! Ashampoo® Backup Pro 15 will save hours of time and effort. The built-in rescue system will boot your PC either from DVD or flash drive and help you restore your system so that your PC works normally again. It's the end of data loss!
Superior malware protection No chance for ransomware, viruses, and worms
Your PC is under constant threat from all kinds of malware. A single wrong click, a security hole in your system, or an infected email is all it takes to trigger disaster! Antivirus programs can never detect and neutralize all malware. Experts believe 300,000 new threats are created and distributed every day. Ransomware that targets your wallet in return for access to your files is particularly prevalent. Do you really want to negotiate with online criminals? Backups are the only solution that offers 100% security. Once your system becomes infected, simply restore your backup and you're in the clear again!
Professional technology for everyone Use the techniques of professional system administrators
The security strategies incorporated into this backup solution was designed with business use in mind and comply with the strict standards required in professional environments. Because only the highest standards are good enough to protect your files! Professional administrators appreciate the solid backup engine, constant file verification, and strong encryption, which is why Ashampoo® Backup Pro 15 is also used by major companies. Get industry-grade file protection for your PC!
Don't be afraid of Windows updates! Simply restore your system to its prior state when it was working fine!
Updates are essential for every PC. Unfortunately, updates can introduce security issues or malfunctions that can cause data loss. At worst, Windows updates can prevent your system from working at all or starting up. These are the painful "but everything was working fine yesterday" moments. Ashampoo® Backup Pro 15 takes your system back to that moment when everything was working perfectly! Face future Windows or security software updates calmly in the knowledge that nothing can harm your PC anymore!
Space-efficient file storage where and how you want it External hard drive, USB stick, NAS, or cloud: Ashampoo® Backup offers flexible storage options!
Ashampoo® Backup Pro saves your backups to any hard disk, USB stick, network drive or cloud service. The advanced disk image feature uses powerful "infinite reverse incremental" technology that takes up little space but offers maximum security. The program supports four different compression methods. And best of all: Backups created with Ashampoo® Backup Pro require up to 50% less space than other backup solutions!
All-round protection with hard disk checkups The backup solution that even checks output locations
A backup is only as safe as the hard disk its stored on! That's why Ashampoo® Backup Pro 15 monitors your hard disk's SMART parameters during backups to detect future issues before they happen! This allows you time to react and avoid data loss. The program also features an additional drive / partition check that analyzes and repairs individual sectors. Whether internal or external, Ashampoo® Backup Pro 15 takes extra good care of your hard disks!
Easy cloud backups All popular providers and storage methods supported
Cloud backups are becoming more important as they offer device and location-independent file access as well as protection against local drive failure. Backing your files up to the cloud is a walk in the park with the new Ashampoo® Backup Pro 15! Practically rid yourself of data loss and stop using local storage! This not only applies to data backups but entire partitions as well! Cloud support has been updated and optimized for all services! Back up your files to OneDrive Business / Office 365, Owncloud, Dropbox, Deutsche Telekom, Google Drive, OneDrive, Strato, 1&1 and many others with incredible ease!
No strain on your system Ashampoo® Backup Pro strategic benefits
Most backup solutions will stop your work as soon as backups are created. Once underway your PC is practically paralyzed with slow, if any, response times. With Ashampoo® Backup Pro 15, this is a non-issue! You won't even notice when backups are created but your archives will still always be up-to-date. Backup Pro 15 does all the heavy lifting in the background and analyzes your system load, only becoming active when enough resources are available without getting in your way. So you can continue to work while Backup Pro 15 works its magic.
Full clarity with Backup Viewer View archive contents without opening them
While backups are primarily meant for storing and restoring data, sometimes you just want to peek into them. Ashampoo® Backup Pro 15's Backup Viewer let's you do just that. Access archived files directly without restoring them first. The files are opened in a secure space to avoid modifying or damaging the original archives!
What's New