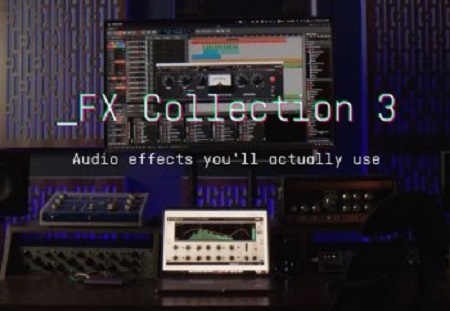 Arturia FX Collection 3 v16.06.2022 macOS
macOS | 16 June 2022 | 7.21 GB​
26 essential audio production plugins offering musicians and producers the inspiring, musical, and pro-grade software tools they need to get creative with their mixing, combining unmatched vintage gear emulations with game-changing contemporary effects.
Find your
sonic perfection
Set your sound alight with the trailblazing creativity of contemporary effects; elevate your production with the premium sound of industry-leading studios; perfect your mixes quicker than ever with immediate software flexibility.
The curated production suite
Only the most essential, iconic, and inspiring effects, distilled into a single collection that ticks every box without ever losing focus. From time-tested studio classics to dramatic sonic transformations, it's all right here.
Color your sound
FX Collection 3 is more than utilities, audio enhancers, and production tools; these are creative, musical effects designed to transform every step in your process and bring out the color and character in your sound.
Fit for professionals
Get the top-tier sound your mix deserves, whatever your style. Thanks to detailed modeling, advanced DSP engineering, and a wealth of advanced features, FX Collection 3 delivers premium sound quality and deep functionality whenever you need it.
Easy to use
Intuitively-designed interfaces, simple software flexibility, expertly-crafted presets, and useful in-app tutorials make these plugins easy for everyone to use, from beginner to pro.
What's new
in FX Collection 3
Dist TUBE-CULTURE
Ignite your mix with lifelike tube warmth with this modern distortion classic, perfect for breathing life and crisp color into any sound - from soft saturation to fizzing crunch.
Dist OPAMP-21
The original 'go direct' guitar pedal turned studio cult classic, enhanced for your virtual studio; instant tube-like harmonics or high-gain crunch. Choose your op-amp flavor.
Efx FRAGMENTS
Explore glitchy stutters, grainy stereo ambience, experimental textures, and beyond with next-level granular processing. Divide, transform, and rebuild any sound.
Tape MELLO-FI
Sprinkle lush lo-fi vibes over any sound with this vintage tape warmth plugin inspired by the legendary Mellotron keyboard. Simple, streamlined, sublime.
Oversampling
Both Dist OPAMP-21 and Dist TUBE-CULTURE feature oversampling, letting you choose between two modes prioritizing either supreme audio quality or lower CPU usage.
A/B comparison
Quickly compare, copy, or bounce between two distinct configurations of an effect, whether it's an existing preset or your own custom settings.
Improved interfaces
Enjoy streamlined performance, easier preset browsing, smoother loading times, and more thanks to interface overhauls for every title in FX Collection 3.
Changing
the mixing game
What if the right compression made you change the way you sang that topline? What if the boldest distortion brought out the hidden harmonic detail in your synth parts? What if that spontaneous granular experiment totally changed the way you heard that drum loop?
Mixing and mastering don't have to be an afterthought, a sprint to the finish line, or a final piece of the puzzle; FX Collection 3 makes it an integral part of the creative process like never before. Get more out of your sound, seamlessly blend music making with creative mixing, and throw out the DAW rulebook - an outside-the-box approach to your in-the-box workflow.
Link Download
​
Last edited by a moderator: