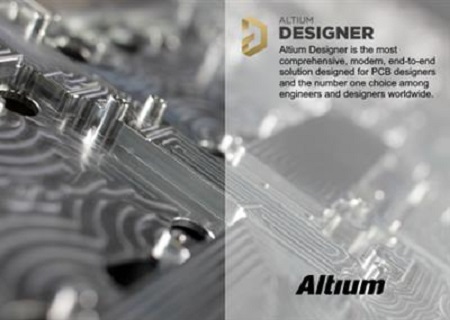 Altium Designer 22.6.1 Build 34 (x64)
OS: Windows 64bit | Language: English | Size: 2.8 GB​
The world's most trusted PCB design system.
Altium Designer® offers a unified design environment, empowering engineers with a single view of every aspect of the PCB design process from schematic, to PCB layout, to design documentation. By accessing all design tools in one place, engineers can complete their entire design process within the same intuitive environment and deliver high-quality products quickly.
Unified Design Experience
Effortlessly create PCB designs with an intuitive interface that seamlessly connects you to every detail of the electronics design process from idea to manufacture.
Unified Data Model
Compile projects to create a single, cohesive model which can sit central to the design process. Easily Access and manipulate detailed data within the model (schematic, layout, simulation) from this central model rather than storing separate data for each design element.
Seamless ECAD/MCAD Integration
Every design change stays in sync between Altium Designer and SOLIDWORKS®, PTC Creo® Parametric™, Autodesk Inventor® or Autodesk Fusion 360®. ECAD and MCAD designers work in their familiar environments with no cumbersome file exchanges or manual conversions required.
Everything's Inside
Over 35 years of electronics design expertise,
built to meet today's design challenges.
Schematic Capture
Hierarchical & Multi-channel Design
Unified Library Management
Mixed Simulation
Board Layout
Rigid-Flex & Multi-Board
Interactive Routing
High Speed & High-Density Design
MCAD Collaboration
Data Management
Manufacturing Outputs
Fabrication Drawings
Install
1. Install Altium Designer 22.
2. Copy the shfolder.dll file from the Licenses folder to the folder where the executable is located: X2.EXE Default location: C:\Program Files\Altium\AD21
3. On first launch, click "Add standalone license file"
4. Select any license file from the Licenses folder
System Requirements
OS:Windows 7 (64-bit only), Windows 8 (64-bit only), or Windows 10 (64-bit only)
CPU:Intel Core i5 processor or equivalent (Recommended Core i7 processor or equivalent)
Memory:4GB RAM (Recommended 16 GB)
Space:10GB hard disk space (Install + User Files)
Graphics card (supporting DirectX 10 or better), such as GeForce 200 series/Radeon HD 5000 series/Intel HD 4600
Monitor with at least 1680x1050 (widescreen) or 1600x1200 (4:3) screen resolution
Adobe Reader (version XI or later for 3D PDF viewing)
Up to date Web browser
Microsoft Office 32-bit or 64-bit
Link Download
​
Download Via UploadGig
Download Via Rapidgator