200
AIDA64 Extreme Engineer 6.33.5766 Beta Multilingual Portable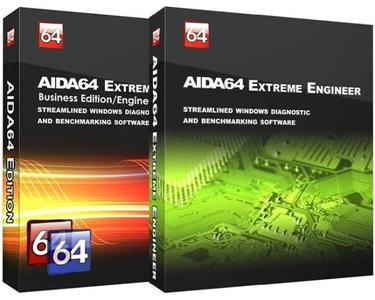 AIDA64 - utility is a powerful tool for identification and testing of virtually all components of personal computers running operating systems Windows. Gives you detailed information about all the hardware and software, in addition, with built-in modules for testing and calibration can be further tested the individual subsystems PC. Displays detailed information about all the hardware and software installed on your system.
Features:
Level information about motherboard and CPU
Details of the video drivers and monitor
Information about all storage devices
Exhaustive information about network adapters, multimedia and input devices
Information about other glands (PCI, PnP, PCMCIA, USB)
Details of Windows, including the date of installation, the license key and more
Information about network shares, users and groups list, and much more
Large amount of information about networking status, remote access, network resources and Internet settings
Detailed information about installed programs, scheduled tasks and startup programs
Information about operating system security
A list of firewalls, anti-spyware and anti-
System Stability Test
CPUID Panel
Hardware monitoring
Benchmarks CPU and FPU
Tests of memory
Module performance test drive
Detection of possible misconfiguration and compatibility issues of hardware and software
Report Wizard
Mailing and printing
Languages
Albanian, Arabic, Belarusian, Bosnian, Bulgarian, Catalan, Croatian, Czech, Danish, Dutch, Estonian, English, Finnish, French, German, Hungarian, Indonesian, Italian, Japanese, Korean, Latvian, Lithuanian, Macedonian, Norwegian, Polish, Portuguese (Brazil), Portuguese (Portugal), Romanian, Russian, Serbian (Cyrillic), Serbian (Latin), Simplified Chinese, Slovak, Slovenian, Spanish, Swedish, Traditional Chinese, Turkish, Ukrainian.
System Requirements
Operating system: Windows 95/98/Me, Windows NT4/2000, Windows XP, Windows PE, Windows Server 2003, Windows Vista, Windows Server 2008, Windows 7, Windows Server 2008 R2, Windows 8, Windows Server 2012, Windows 8.1, Windows Server 2012 R2, Windows 10, Windows Server 2016
Processor: Intel Pentium or later
Required disk space to install: 80 MB