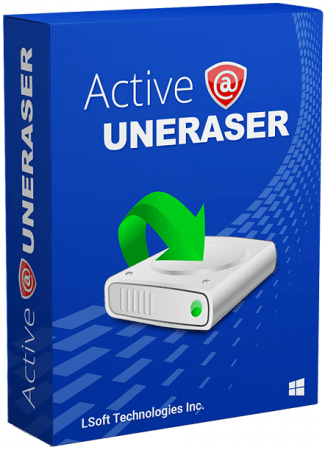 Active UNERASER Ultimate 22.0.1
File size: 1.0 GB
​
Uneraser is an undelete software that can recover deleted files, as well as files and folders located on deleted/damaged/re-formatted volumes: NTFS, ReFS, FAT/exFAT, Linux Ext2/Ext3/Ext4 / XFS / JFS / BtrFS, Apple HFS+ & Unix UFS / JFS / XFS file systems.
Main Features
- Unerase deleted: files, images & photos.
- Undelete damaged volumes & partitions.
- Recover accidentally formatted HDD,SSD,USB,SD.
- Unerase data from Disk Images & damaged RAIDs.
Features included in UNERASER Ultimate
- Limited to number of files being recovered (No limit)
- Recovers files from deleted/damaged/re-formatted partitions and volumes
- Supports recovery drives of types: IDE / SATA / eSATA / SCSI / SAS / SSD / USB / Camera Cards and RAIDs
- Recovers FAT, exFAT, NTFS, ReFS, Apple HFS+, Linux Ext2/Ext3/Ext4/BtrFS, Unix UFS/XFS/JFS file systems
- Recovers volumes and files created in Windows, MacOS, Linux, Unix
- Recovers Dynamic Disks (LDM), Windows Storage Spaces(WSS) and Logical Volume Managers (LVM)
- Scans and recovers partitions damaged by virus or with damaged MBR
- Displays complete physical and logical drive information
- Displays object's integrity status and assesses ability to recover files & folders
- Supports recovery of fragmented, compressed, sparse and encrypted files
- Allows to preview files visually as well as in integrated HEX viewer before recovery
- Includes advanced search by file name, mask, size range and other attributes
- Displays content of any sector on the disk with integrated Disk Editor
- Creates, works with and recovers data from raw disk images
- Contains two types of drive and device scan: Basic (Fast) and Thorough (Slow)
- Includes bootable Windows Recovery environment (WinPE-based) for recovery when machine does not boot
- Includes bootable Linux-based Recovery environment for date recovery when machine does not boot
- Virtually rebuilds damaged RAID0, RAID1, RAID5 and Span disk arrays. Damaged RAID data recovery
HOMEPAGE
DOWNLOAD RAPIDGATOR
DOWNLOAD UPLOADGIG